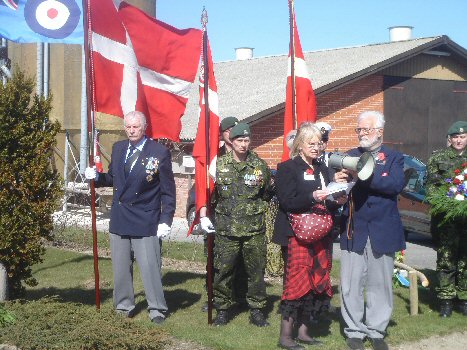 På dansk
Lynne Truex talte for familien Ellis og de andre familier fra United Kingdom.

Lynne Truex spoke on behalf of the Ellis family and the other families from the United Kingdom. See also Women.
She kindly sent her manuscripts to be published on www.airmen.dk. See her photo and note of 21 April 2014 from the Bomber Command Memorial, London.
Crash site memorial service, Bogballe
21 April 2013 - Speech on behalf of
Fl/Eng: Sgt. Gerald Albert Raymond Town 1217965 R.A.F.V.R.
Observer: Fl/Sgt. William Henry Ellis 1021328 R.A.F.V.R.
Air/Gnr: Sgt. Frederick Joseph Earle 1332585 R.A.F.V.R.
I am Lynne Truex, niece of Flt Sgt William Ellis, the Observer on Flight BF506. I feel privileged today to say a few words on behalf of the three British airmen of that
flight, namely Fl/Eng Sgt Gerry Town and Air/Gnr Sgt. Frederick Earle as well as my uncle Bill. Standing here with their friends and relatives, I am reminded of how
these men have touched our hearts and consciousness and how their memories have been preserved for all time by our generous Danish friends. No one could have
done more to honour them. As my own family's historian, I am always awestruck by the way family traits and mannerisms continue down generations and also the
way we are influenced by people we know and love. It put me in mind of these words:
"Does every presence leave an intangible echo, a sensation of a being that was there? Does the atmosphere ripple and sigh when each being is gone? Is it forever disturbed?
In the silence and stillness that descends when someone leaves it can seem that something has changed forever. They are gone but their voices, thoughts and deeds reverberate in our consciousness; they leave an alteration, a shift, a memory and things are no longer quite the same."*
Farewell, brave Bill, Frederick and Gerry. You have brought us together here today in your memory. May your souls rest in peace, safe in the knowledge that you are loved and forever remembered and that you are honoured and cared for too by the good people of Denmark.
*These words attributed to Textile Artist, Helen Colling, 2010
Speech at Mayor's commemoration lunch
21 April 2013 - By Lynne Truex on behalf of
Fl/Eng: Sgt. Gerald Albert Raymond Town 1217965 R.A.F.V.R.
Observer: Fl/Sgt. William Henry Ellis 1021328 R.A.F.V.R.
Air/Gnr: Sgt. Frederick Joseph Earle 1332585 R.A.F.V.R.
I am Lynne Truex, niece of Flt. Sgt. William Ellis, Observer on Flight BF506. But today I would like to pay tribute to all three British airmen who died on that fateful
flight 70 years ago. Also to say some words of thanks to our wonderful Danish hosts.
I have often tried to imagine what the last 26 minutes of Flight BF506 were like, from the mayday sent by Flt/Sgt. Cyril Cobb till their crash landing on 21 April 1943,
but it is too ghastly to contemplate. It is haunting to think that exactly 70 years ago today, the field we just visited was strewn with the debris and remains of this
crash. I have learned so much of what happened that day. Locals including Mads and Kirstine Nielsen and daughter, Signe, were woken by the crash. Flames
enveloped wreckage on the field and within 1½ hours, the area was surrounded by German soldiers. Mads had the unenviable job of making coffins for the dead – a serious matter he would never forget. He thought so much about the families of the dead and it is this abiding thought that should be of great comfort for those of us associated and related to all of the precious crew members. They have been cared for by the Danish people ever since. Mads Nielsen later gave up his free time to construct the wonderful memorial for our loved ones and they are commemorated regularly, particularly on Danish Armistice day, 4th May, ever since.
This time two years ago I knew very little of my Uncle, let alone the men he died with. It has been a privilege to learn more about these brave men. Putting human
stories to them has been humbling. My uncle Bill, who is represented here today by his daughter Adrianne, my sister, Fern and nephew, Patrick was married with
two daughters at the time of his demise. He was 32 years old, and the oldest crew member. He was my father's big brother who hero-worshipped him. His passion
for football has been passed down to his niece Fern and great nephew Patrick. I learned from Adrianne that her mother, Mary, said her dad had become increasingly depressed and anxious every time he came home on leave. At the time of the crash, Mary and the girls were living in the Welsh countryside and she knew the
minute he died. In the early hours of 21st April 1943, she felt and saw a bright rush of energy coming through her bedroom window and she knew at that very
moment, he was gone. Adrianne's father is also commemorated on the Dolgelley War Memorial in Gwynedd, North Wales.
Fl/Eng: Sgt. Gerald Town, according to his friend, Richard Lukehurst, who is here today with his wife Thelma, was mad about flying – it was all he wanted to do. He
joined up in 1941 with his school friend, Frederick Earle and they died together two years later, both tragically young at only 22 years old. Gerry, like my Uncle Bill,
had become increasingly downhearted and depressed each time he returned home. His proposal to his sweetheart, Richard's sister, Pat, was vetoed by her father
as he anticipated Gerry would not survive, and he did not want his daughter left a war widow. Gerry went home and buried their engagement ring in his back garden
but visited Pat's mother regularly, telling her how frightened he was each time he returned for duty. His cousins, Norman Smith and his wife Iona and Kevin Lidstone
and his wife, Lynne, are also here today.
Little is known of Air/Gnr: Sgt. Frederick Earle, the third British crew member. We know he and Gerry attended Ashford North Central Boys School in Kent from
1932-36, and both are listed on the School's Roll of Honour as well as on the Ashford War Memorial. I recently discovered he had a younger brother, Ron who
died unmarried and childless in 2001 and also that he may have been married to a Kate Anna Pryer. We have been unable to trace a direct next of kin.
My journey of discovery of all these facts started with a visit to the RAF stand at a genealogy exhibition in London. This led me to Kelvin Youngs, here today with
his wife, Paula. Kelvin as many of you know is webmaster of Aircrew Remembered and this wonderful website led me to the names you now all know, Diane
and Brian Ramsay, Diane being the niece of Flt. Sgt Upton and from then on, the story unfolded. (See this.) Thanks to all of you for helping me on this journey.
Now I'm a bit worried that Brian will be at a loose end when he gets back to New Zealand and it's 10 years till we might meet up again at the 80th anniversary so
I've brought along a little project for him to keep him busy. I know he is interested in the Stirling project so I thought he could have a go at his own construction
with this kit! And whilst Brian is doing that, knowing Diane is a fellow cat lover, I thought she might have a go at this ...
I would like to say a huge thank you on behalf of the friends of relatives of the British crew members to all the Danish people who have done so much to honour our
loved ones and for organising this event. As well as Mads Nielsen, sadly no longer with us, previously mentioned, there is Arne Rosenkvist who has done so much
to organise this reunion and to co-ordinate his team of Homeguard volunteers for our benefit. Also there is Anders Straarup who has commemorated airmen on his website www.airmen.dk as well as making huge contributions to commemorating our crew at the yearly Liberation event. Sadly historian Ole Kraul who did so much
to research and catalogue our war dead, including our crew, is also no longer with us.

Finally, very many grateful thanks to our host today, Kirsten Therkilsen, Mayor of Hedensted, who has hosted this event in honour of our loved ones – it has been a pleasure and delight to meet you all. I should like to present you with a token of appreciation of all crew members' friends and families for your continuing kindness.
It includes the following words....
Vi takker alle vorre venner i Danmark for at kigge efter vores kæreste folk i så mange år –
We thank all our friends in Denmark for looking after our much loved ones for so many years.
May our friendship continue for many years to come.