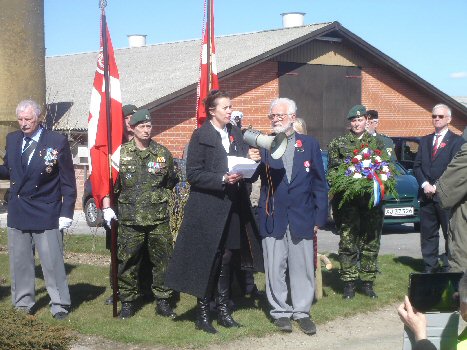 På dansk
Philippa Tolley, niece af Pilot, Pilot Officer Alan Tolley fra New Zealand,
var så venlig at sende disse to manuskripter til brug i www.airmen.dk.

Philippa Tolley, the niece of Pilot, Pilot Officer Alan Tolley from New Zealand, kindly sent these two manuscripts to be published on www.airmen.dk.

"The first is the one I gave at the site:
My name is Philippa Tolley and my uncle Alan was the pilot of the Stirling bomber that was brought down here 70 years ago. I am speaking on behalf of the families
and friends of the 4 New Zealand airmen who ventured to the other side of the world to take part in a war and a cause they were willing to risk their lives for.
Along with my uncle, there were three other New Zealanders on board. Flight Sergeant Frank Upton, Flight Sergeant Cyril Cobb and Flight Sergeant Ian Salt.
We are very grateful for the warm welcome and hospitality shown by the Home Guard and appreciate the time and effort made by all here, including the Defence Force, the Mayor of Hedensted and the Consul General to remember and acknowledge the sacrifice made by our relatives.
For those of us who live so far away, it is a comfort to know the efforts of our family members are respected in the place where they now rest.
Thank you on behalf of the relatives of the New Zealand crew."
I then gave another speech at the reception with word from my aunt.
"Like others of you here, I did not know my uncle, but marvel at the courage, purpose, and what must have been a sense of adventure that led this group to become
part of the RAF.
Nearly two years ago, my other Uncle, Harry, who has since died, spoke about his pride in his brother and the sacrifice these young men made. He talked about
these men as "excellent people who were loyal to their country and who served in order to preserve freedom."
It speaks volumes about their bravery that they were willing and able to shoulder such a huge burden at such a young age. At the time the bomber crashed Ian Salt
was 20, my uncle 21, Frank Upton was 28 and Cyril Cobb 30.
Despite the dangers facing them every time they undertook a mission, Alan's sister Phyllis says her brother spoke of the fun they had in the day to relieve the tension
and she remembers a brother who loved music and going out.
My aunt lives in Taupo in New Zealand and two of her granddaughters are here today, as well as my brother.
Phyllis wrote a few words for this occasion, which I will read here:
The memory of these brave young men has been kept alive by these wonderful Danish people all these years and today is a special anniversary after
70 years.
The gratitude of my family and the families of all the crew know no bounds. Beyond the tragedy of their untimely deaths, bonds have been made here which must forever give even greater value to the peace of the world, which these young men gave their lives for.
My younger brother would have been so proud to look upon the grand young people here today and to know the courage in all of them to go forth to
help make the world a better place as they grow older.
My aunt ends by saying: My thoughts and prayers are certainly with you today as we all remember our brave young men.
In the letter he left behind for his parents in the event of his death, Alan spoke of his great concern that as pilot and captain he would never let his crew down and
he spoke of the importance of family and friends saying the support he, like many of his colleagues received, gave him the inspiration to carry on in the face of innumerable hazards.
This war cost the lives of so many young men from so many countries. But today again shows the importance of friends and family as we gather, again from different parts of the world, to remember the very great sacrifice made by these men and to thank those here in Denmark who have continued to acknowledge their
contribution."
Thank you Anders for all the information you shared with us during the weekend and all the time you put into your research. It was a pleasure to meet you.
Warm Regards
Philippa Tolley