Stirling III BF506 - At Bøgballe - Monument Photos 25 MAY 2011 by AS 21 April 2013 Updated: 23 APR 2013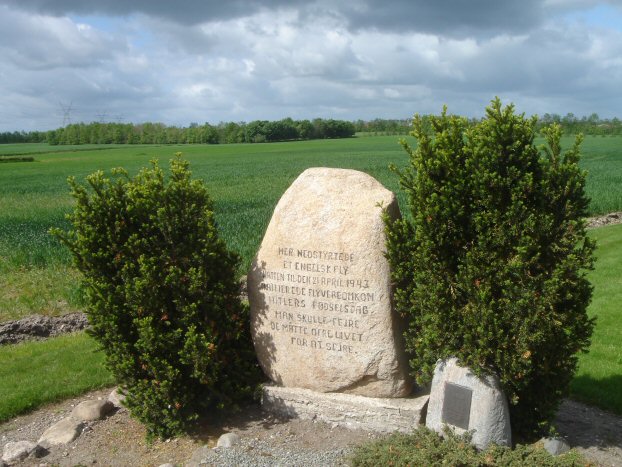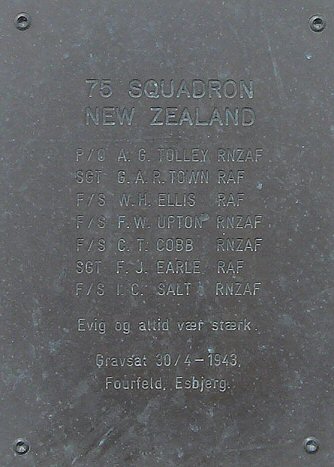 STI BF506 styrtede ned her på marken bag mindestenen, også set 1943 og 2005. Mindestenen står her 1 km syd for Bøgballe ved Fælledvej 36, 7171 Uldum.
Mindesten for 7 flyvere fra STI BF506 rejst af Mads Nielsen, Bøgballe. Se Officielt besøg 1985, Gæster fra New Zealand 1998 og 2004 og Ved mindestenen 2008.
Mindestenen på Mads Nielsens regning blev afsløret den 2. april 1971. Navnepladen fra Hjemmeværnet i Hedensted blev afsløret den 4. maj 1998.
"Her nedstyrtede et engelsk fly natten til den 21. april 1943. 7 allierede flyvere omkom.
Hitlers fødselsdag man skulle fejre, de måtte ofre livet for at sejre." "Evig og altid vær stærk. Gravsat 30/4 - 1943. Fourfeld, Esbjerg."

STI BF506 crashed here into the field behind the monument, also seen 1943 and 2005.The monument is here 1 km south of Bøgballe at Fælledvej 36, 7171 Uldum.
Monument to 7 airmen from STI BF506 erected by Mads Nielsen, Bøgballe. See Official visit 1985, Visitors from New Zealand 1998 and 2004 and At monument 2008.
The memorial stone at Mads Nielsen´s expense was unveiled on 2 April, 1971. The name plate from the Danish Home Guard was unveiled on 4 May 1998.
"Here crashed an English plane on the night before 21 April, 1943. 7 allied airmen perished. "Hitler´s birthday was to be celebrated, they had to sacrifice their lives for the victory." "For ever and ever be strong. Buried on 30 April, 1943. Fourfeld, Esbjerg." Aircrew Remembered has this.