21 April 2014 Photos from Lynne Truex Updated: 04 JAN 2016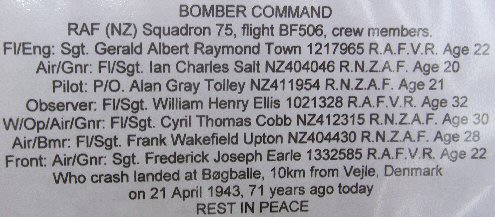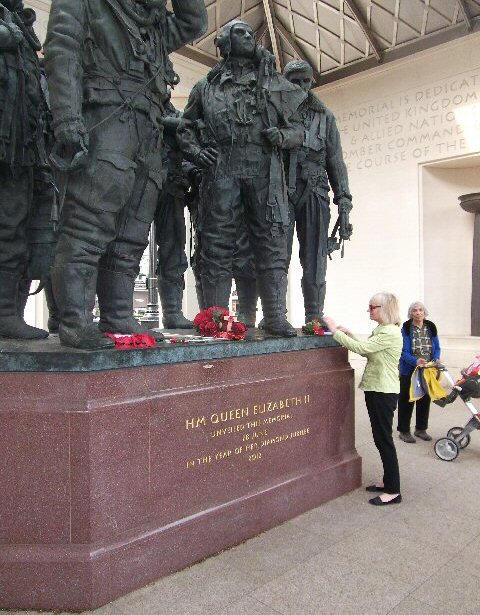 Den 21. april 2014 tog Lynne Truex, niece af Flt Sgt William Ellis, Observer
på Stirling BF506, til London med sin datter og hendes ven og lagde 7 røde roser og
et kort på Bomber Command Memorial til minde om de kære, der omkom den
21. april 1943, for netop 71 år siden. Se også Kvinder.
Den 21. april 2013 deltog Lynne Truex og andre pårørende ved højtideligheden i
Bøgballe, se hendes tale på vegne af 3 flyvere fra Royal Air Force.
Se Tab af liv i luftkrigen med detaljer.
Se fotos fra NOV 2013.



On 21 April 2014 Lynne Truex, the niece of Flt Sgt William Ellis, the Observer
of Stirling BF506, went to London with her daughter and her boyfriend and laid 7
red roses and a note on the Bomber Command Memorial in memory of the lost loved ones who perished on 21 April 1943, exactly 71 years ago. See also Women.
On 21 April 2013 Lynne Truex and other relatives attended the ceremony at Bøgballe,
see her speech on behalf of 3 airmen of the Royal Air Force.
See Loss of Lives in the Air War with details.
See photos from NOV 2013.