21 April 2013 Stirling BF506 Monument 1 2 3 4 5 6 7 8 9 10 Updated: 04 JAN 2016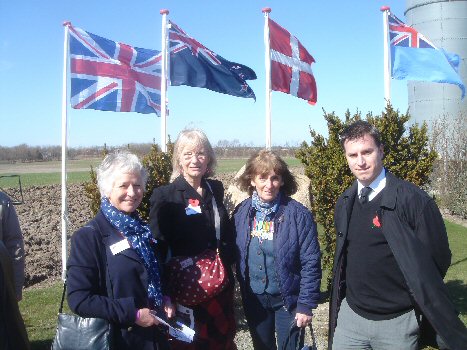 F/Sgt W.H. Ellis var navigatør på STI BF506. Familie og venner brugte
normalt navnet Bill.
Se Bill Ellis mindes og Bill's hustru Mary Ellis og to døtre Elizabeth Fern og Adrianne Mary. Se også Kvinder.
Den ældste datter Adrianne ses her foran mindestenen med sine kusiner Fern
og Lynne.
Adrianne bærer medaljerne fra sin far Flight Sergeant William Ellis, navigatør på
STI BF506.
Fern's søn Patrick bærer stolt miniature-medaljerne fra sin bedstefar Robert Ellis
(Bill Ellis's lillebror), som han fik, mens han var i Royal Navy. Han bærer også
den røde valmue i New Zealand-udgaven Anzac poppy.


F/Sgt W.H. Ellis was the Navigator of STI BF506. Family and friends
used to call him Bill.
See Bill Ellis remembered and Bill's wife Mary Ellis and their two daughters
Elizabeth Fern and Adrianne Mary. See also Women.
The elder daughter Adrianne is here in front of the memorial stone with her
cousins Fern and Lynne.
Adrianne is wearing the medals of her father, Flight Sergeant William Ellis,
Navigator of fateful flight BF506.
Fern's son Patrick proudly wears the miniature medals of his grandfather,
Robert Ellis (Bill Ellis's younger brother) awarded during his time in the
Royal Navy. He also wears a commemorative red Anzac poppy.