Stirling III BF506 - At Bøgballe - Mads Nielsen Photos from Signe Rømer Updated: 14 OCT 2011
Fælledvej 34 her



Mads Nielsen, som fik mindestenen rejst for
besætningen på STI BF506 egen regning, var uddannet snedker og senere købmand.
Kirstine og Mads Nielsen havde fra 1910
Bøgballe Kolonial & Isenkramforretning.
På foto ses han som fabrikant af et redesystem
til høns, hvor æggene kom i små bakker.
"Rene æg uden vask."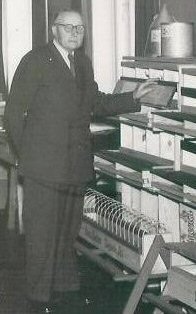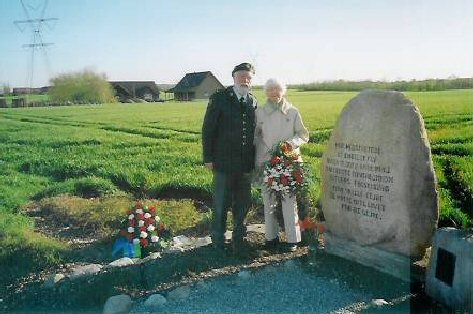 Han var også bedemand i sognet.
Det bragte ham i nærkontakt med de omkomne flyvere. Han glemte det aldrig!
Mads Nielsen fik afsløret mindestenen for dem
den 2. april 1971, hvor han blev 85 år.
Sådan ville han fejre den fødselsdag.
Hans hustru og han fik 10 børn, der tidligt blev
meget aktive i butikken og andre steder.
Christoffer tog billedet på nedstyrtningsstedet den
21. april 1943. Se også stedet den 4. maj 2005.
Signe, nu Signe Rømer, ses her ved mindestenen i
2005 sammen med løjtnant i Hjemmeværnet
Arne Rosenkvist. Fælledvej 38 her er bag dem.

Se også Officielt besøg 1985
og Gæster fra New Zealand 1998 og 2004.
Se Signe Rømers tale Ved mindestenen 2008
og tale af Anders Straarup 2011.
Se øjenvidnet Hanne Jørgensen i 2011 om styrtet.
Hun oplevede det fra Fælledvej 38 her.




Mads Nielsen, who had the memorial stone to the crew of STI BF506 erected at his own expense, was a skilled cabinetmaker and later a grocer.
Since 1910 Kirstine and Mads Nielsen were grocers in Bøgballe with all kinds of goods.
In the photo he is seen as manufacturer of a system of nests for hens. Their eggs ended in small trays. "Clean eggs without washing."

He was also the undertaker of the parish. That brought him into close contact with the deceased airmen. He never forgot!
Mads Nielsen had the memorial stone to them unveiled on 2 April 1971 on his 85th anniversary. He wanted to celebrate his birthday in that way.
His wife and he had 10 children, who from an early age were very busy in the shop and elsewhere.
Christoffer took the photo at the crash site on 21 April 1943. That spot is also seen here on 4 May, 2005.
Signe, now Signe Rømer, is seen here at the memorial stone in 2005 together with Arne Rosenkvist, Lieutenant in the Danish Home Guard.
See Official visit 1985 and Visitors from New Zealand 1998 and 2004. See Signe Rømer´s speech At monument 2008 and speech by Anders Straarup 2011.
See the eye witness Hanne Jørgensen in 2011 about the crash. She experienced it from Fælledvej 38 here.