Duxford 2018 Imperial War Museum Duxford * American Air Museum Photo: AS 22 SEP 2018 Updated: 05 MAR 2019

Click on next hyperlink START*OPERATIONS ROOM*BLENHEIM* HURRICANE*flying* SPITFIRE* LANCASTER*total*Navigator*flying* BBMF TEAM
Spitfires+B-17*B-17 total*tail*wing*ball turret*top*radio room*cockpit*bombardier*to tail*flying* P-51 MUSTANG*flying* RED ARROWS* THE EAGLE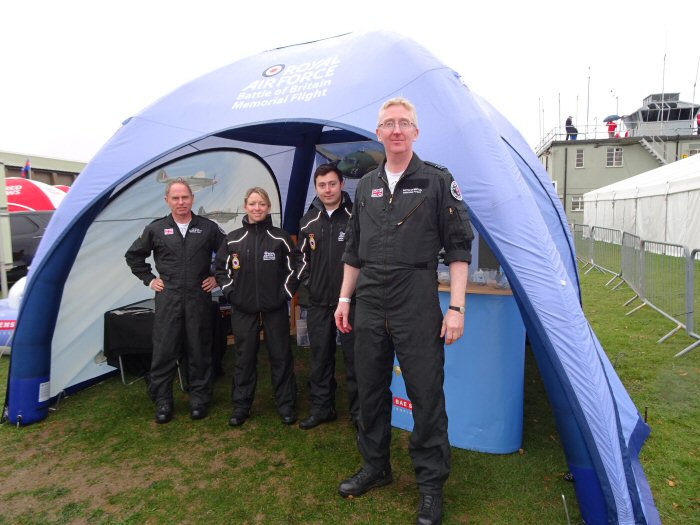 BBMF TEAM
Dette team fra BBMF kunne slappe af et
øjeblik mens næsten al fokus var på
18 Spitfires og 1 B-17.

BBMF fly ses på himlen fra maj til september hvert år. De fleste flyvninger er over UK, men ikke alle. Se foto Dejbjerg-Lancaster med billedteksten:
Folk på Dejbjerg Kirkegård
byder velkommen til Lancaster HW-R.
Overflyvningen her var til ære
for besætningen på
Lancaster III LM479. Lancaster over Esbjerg.

BBMF TEAM
The team of the BBMF could relax for a moment while nearly all focus was on the
18 Spitfires and the B-17.

BBMF planes are seen in the skies from
May to September each year.

Most flights are over the UK, but not all.
See the photo Dejbjerg-Lancaster with
the caption of 5 May 2012:
People at Dejbjerg Churchyard
welcome Lancaster HW-R.

This flypast was
in honour of the crew of
Lancaster III LM479. Lancaster over Esbjerg.