Duxford 2018 Imperial War Museum Duxford * American Air Museum Photo: SL 22 SEP 2018 Updated: 08 NOV 2018

Click on next hyperlink START*OPERATIONS ROOM*BLENHEIM* HURRICANE*flying* SPITFIRE* LANCASTER*total*Navigator*flying* BBMF TEAM
Spitfires+B-17*B-17 total*tail*wing*ball turret*top*radio room*cockpit*bombardier*to tail*flying* P-51 MUSTANG*flying* RED ARROWS* THE EAGLE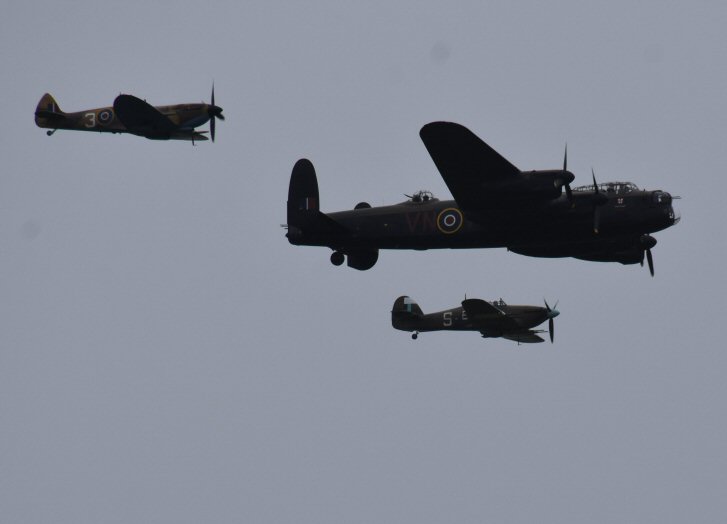 BBMF fly
BBMF fly 10 sek. MP4 video af JBS.
Dette foto og videoen viser
Spitfire - Lancaster - Hurricane.
Bemærk bannere
fra RED ARROWS og BBMF.

BBMF er en del af Royal Air Force.
Se mere i afsnittet på engelsk.



BBMF planes
BBMF planes 10 sec. MP4 video
by JBS.
This photo and the video show
a Spitfire, a Lancaster and a Hurricane.
Notice banners from the
RED ARROWS and from the BBMF.

Battle of Britain Memorial Flight is
a unit of the Royal Air Force.

The mission of the RAF BBMF is
"to maintain the priceless artefacts of
our national heritage in airworthy
condition in order to commemorate
those who have fallen in the service of
this country, to promote the modern
day Air Force and to inspire
the future generations."