Duxford 2018 Imperial War Museum Duxford * American Air Museum Photo: SL 22 SEP 2018 Updated: 08 NOV 2018

Click on next hyperlink START*OPERATIONS ROOM*BLENHEIM* HURRICANE*flying* SPITFIRE* LANCASTER*total*Navigator*flying* BBMF TEAM
Spitfires+B-17*B-17 total*tail*wing*ball turret*top*radio room*cockpit*bombardier*to tail*flying* P-51 MUSTANG*flying* RED ARROWS* THE EAGLE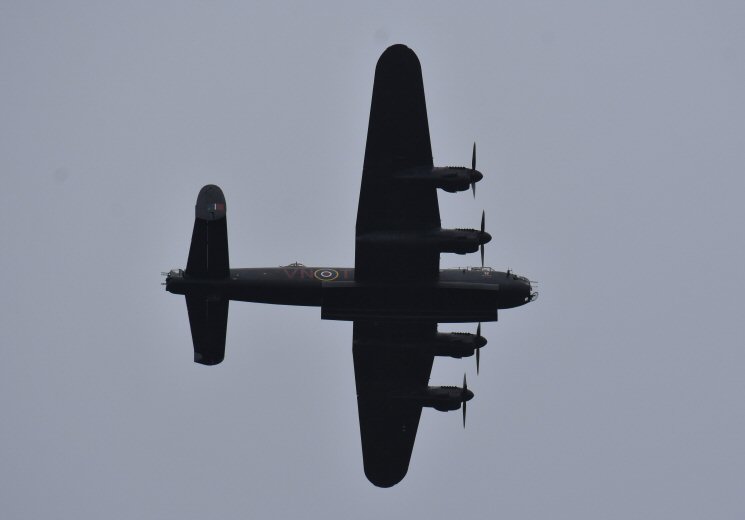 LANCASTER i luften
Se Lancaster fotos.
Her flyver den med åbne
bombelemme.
Et problem var at besætningen på
en Lancaster ikke kunne forlade
flyet gennem bombelemmene i en nødsituation. Sgt Bevan ventede for
længe. Se Mindesten fra 2013.
Se overlevelsestal nederst i
Tab af liv i luftkrigen.
Meget lavt i Lancaster!
99 Lancaster-fly ses i AirmenDK.
Af 694 flyvere overlevede kun 87.
Mere via Søgeformular til databasen.

LANCASTER flying
See Lancaster photos.
Here it is flying with open bomb bay doors.
It was a problem that the crew of a Lancaster were unable to leave the
plane through the bomb bay doors
in a case of emergency. Sgt Bevan
waited too long. See Memorial, 2013.
See survival rates at the bottom of
Loss of Lives in the Air War.
Very low in a Lancaster.
99 Lancasters are in AirmenDK.
Of 694 airmen only 87 survived.
Try Search form for the database.