Duxford 2018 Imperial War Museum Duxford * American Air Museum Photo: AS 22 SEP 2018 Updated: 14 NOV 2018

Click on next hyperlink START*OPERATIONS ROOM*BLENHEIM* HURRICANE*flying* SPITFIRE* LANCASTER*total*Navigator*flying* BBMF TEAM
Spitfires+B-17*B-17 total*tail*wing*ball turret*top*radio room*cockpit*bombardier*to tail*flying* P-51 MUSTANG*flying* RED ARROWS* THE EAGLE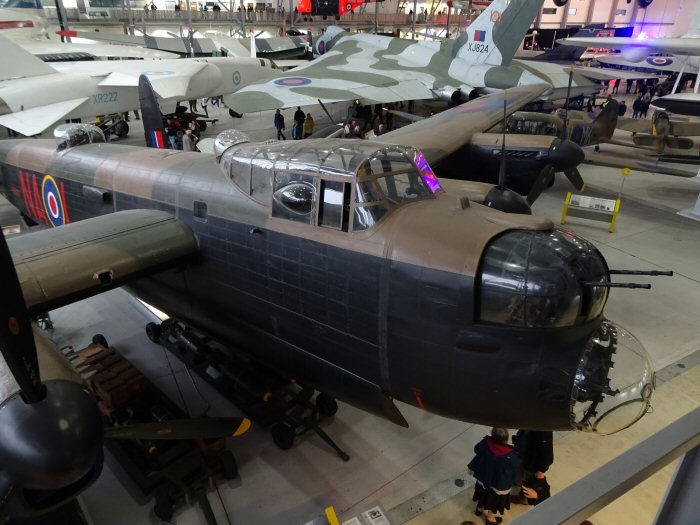 LANCASTER

Avro Lancaster er det berømteste britiske bombefly.
Her ses det i AirSpace, navnet på denne
hal, hvor man også ser mange andre fly.

Bombeskytten brugte det nederste vindue
under indflyvning mod bombemål.

Ellers var han bag sine to maskingeværer,
se Ammunition og
Tårne.

LANCASTER
Avro Lancaster is the most famous British
bomber.
Here it is seen in AirSpace the name of
this hall where you also see many other
planes.

The bomb aimer used the lowest window
during the bombing run towards the target.

Most of the time he was behind his two machine guns, see Ammunition and
Turrets.