Duxford 2018 Imperial War Museum Duxford * American Air Museum Photo: AS 22 SEP 2018 Updated: 12 NOV 2018

Click on next hyperlink START*OPERATIONS ROOM*BLENHEIM* HURRICANE*flying* SPITFIRE* LANCASTER*total*Navigator*flying* BBMF TEAM
Spitfires+B-17*B-17 total*tail*wing*ball turret*top*radio room*cockpit*bombardier*to tail*flying* P-51 MUSTANG*flying* RED ARROWS* THE EAGLE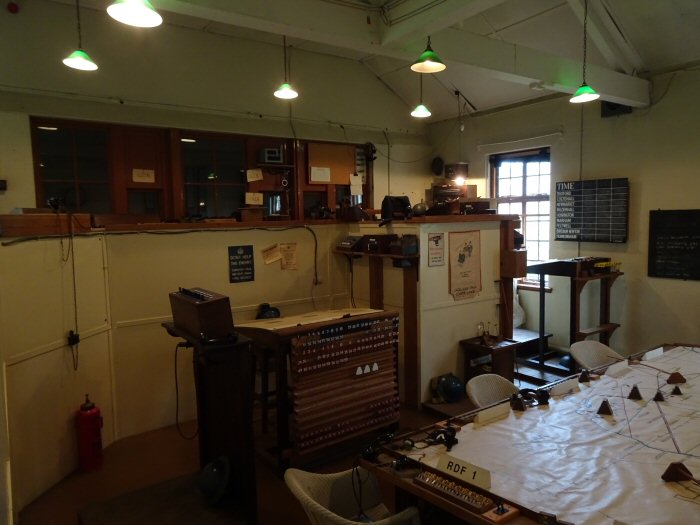 OPERATIONS ROOM 1940
IWM Duxford The 1940 Operatíons Room
Bag bordet havde officerer overblik over
situationen, så de havde mulighed for at
give ordrer ud fra hvad de så og hvad de
fik af rapporter over telefon og radio.

Uden dette bord ville officererne nemt
drukne i informationer under et angreb.

Tavlen i baggrunden viser 9 flyvepladser.

Se også Kontroltårnet i RAF Elvington
på Yorkshire Air Museum.
Dengang var man nødt til at klare sig
uden computere!

OPERATIONS ROOM 1940
IWM Duxford The 1940 Operatíons Room
Behind the table officers had an overview
of the situation, so they were able to give
orders based on what they saw, and what
they had of reports by telephone and radio.

Without this table the officers would easily
drown in information during an attack.

The blackboard in the background shows
9 air stations.
See also the
Control tower of RAF Elvington
at Yorkshire Air Museum.
Then they had to do without computers!