47 names - St. Clement Danes Updated: 02 NOV 2017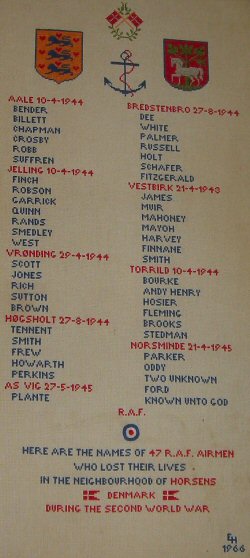 Allied Airmen - Allierede flyvere 1939-45:

p289 LAN ME663 AALE 10-4-1944 p352 LAN LM694 BREDSTENBRO 27-8-1944 (AASTRUPLUND)

p284 LAN JB725 JELLING 10-4-1944 p163 LAN W4330 VESTBIRK 21-4-1943
p172 STI BF447 VRØNDING 29-4-1944 p286 LAN JB600 TORRILD 10-4-1944
p351 LAN PB292 HØGSHOLT 27-8-1944 p427 HAL JP336 NORSMINDE 24-4-1944 (THE KATTEGAT)
p408 LAN NG233 AS VIG 27-5-1945




St. Clement Danes i London er den centrale kirke for Royal Air Force. Se Danske minder.
Se St. Clement Danes og Sir Arthur Harris og inskription på statuens sokkel. Se mere om Tab af liv.
Dette broderi med korssting af fru Emilie Henriksen - se signaturen EH 1966 - med navne på 47 flyvere,
der mistede livet ved Horsens er ophængt i krypten under St. Clement Danes. Se også Original 1965.
Hun gav et lignende broderi til Horsens. Se tekst om alle 3 broderier og foto i Emilie Henriksen - Horsens.
Se de to broderier i Danmark: Original + Horsens.
Se også Mindetavle for 69 flyvere opsat nær dette broderi. Se 47 navne og Google Map HorsensEH47.



St. Clement Danes in London is the Central Church of the Royal Air Force. See Danish memorials.

See St. Clement Danes and Sir Arthur Harris and inscription on the base of the statue. See more about Loss of Lives.

This cross stitch embroidery by Mrs. Emilie Henriksen - EH 1966 - with the names of 47 airmen who lost
their lives near Horsens is placed in the crypt of St. Clement Danes. See also Original 1965.
She gave a similar embroidery to Horsens, See text about all 3 pieces of embroidery and a photo in
Emilie Henriksen - Horsens.
See the two embroideries in Denmark: Original + Horsens.

Wikipedia has this about the church with the official website St. Clement Danes.

See also Memorial Tablet to 69 airmen placed near this embroidery. See 47 names and Google Map HorsensEH47.