Sir Arthur Harris and lost airmen - the inscription and more Updated: 03 APR 2018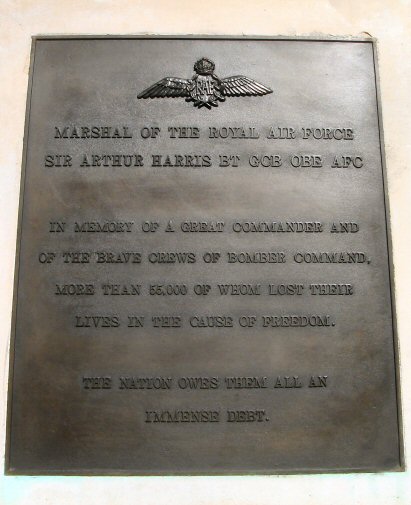 Inskription på soklen af statuen af Sir Arthur Harris foran St. Clement Danes:

MARSHAL OF THE ROYAL AIR FORCE SIR ARTHUR HARRIS BT GCB OBE AFC
"Til minde om en stor militær chef og de tapre flyvere i Bomber Command,
af hvilke mere end 55.000 mistede livet for frihedens sag.
Nationen står i en umådelig gæld til dem alle."

Se mere om Tab af liv. Dette var mere end et britisk/tysk opgør!
Statuen blev afsløret af Dronningemoderen den 31. maj 1992.
Se også Minelægningsområder. Flere links i engelsk version.

Inscription on the base of the statue of Sir Arthur Harris in front of St. Clement Danes:

MARSHAL OF THE ROYAL AIR FORCE SIR ARTHUR HARRIS BT GCB OBE AFC
In memory of a great commander and of the brave crews of Bomber Command,
more than 55,000 of whom lost their lives in the cause of freedom.
The nation owes them all an immense debt.

See more about Loss of Lives. This was more than a British/German showdown!
The statue was unveiled by the Queen Mother on 31 May 1992.
See Sir Arthur Harris, 1st Baronet (from Wikipedia)
Marshal Arthur "Bomber" Harris * Minelaying Areas
IHR: Air Chief Marshal Sir Arthur Travers Harris, 1892 - 1984