69 airmen - St. Clement Danes Updated: 01 MAY 2011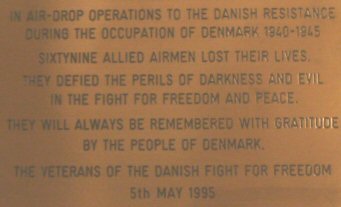 St. Clement Danes er den centrale kirke for Royal Air Force.
Se St. Clement Danes og Sir Arthur Harris og inskription på statuens sokkel.

Mindetavle for 69 flyvere i krypten under St. Clement Danes. Se mere om Tab af liv.
Den er opsat nær broderiet med 47 navne med korssting. Se Danske minder.

Inskription: Under nedkastningsoperationer til den danske modstandsbevægelse
i besættelsestiden 1940-45 mistede 69 allierede flyvere livet.
De trodsede mørkets og ondskabens farer i kampen for frihed og fred.
De vil altid blive husket med taknemmelighed af det danske folk.
Frihedskampens Veteraner, 5. maj 1995

Se navne på de 69 omkomne flyvere på Mindetavle i Rebild Bakker her syd for Aalborg.

St. Clement Danes is the Central Church of the Royal Air Force.
See St. Clement Danes and Sir Arthur Harris and inscription on the base of the statue. See more about Loss of Lives.
Memorial tablet to 69 airmen in the crypt of St. Clement Danes. See Danish memorials.

It is placed near the embroidery with 47 names in cross stitch.
In air-drop operations to the Danish resistance during the occupation of Denmark
1940-1945 sixtynine allied airmen lost their lives.
They defied the perils of darkness and evil in the fight for freedom and peace.
They will always be remembered with gratitude by the people of Denmark.
The Veterans of the Danish Fight for Freedom, 5th May 1995.

See names of the 69 perished airmen on the Memorial Tablet in Rebild Hills here south of Aalborg in Denmark.