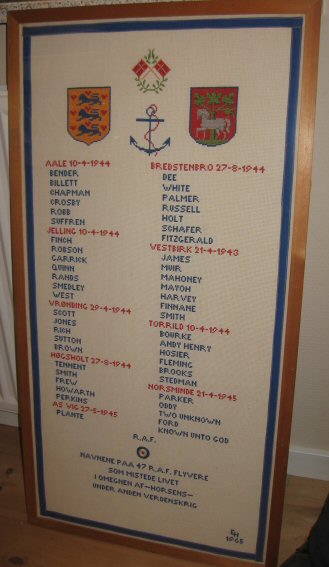 Emilie Henriksen - Original Photo: Kristian Zouaoui Updated: 02 NOV 2017

Korsstingsbroderi med 47 navne: Original 1965 * St. Clement Danes 1966 * Horsens 1970
Foto modtaget 28. marts 2011 fra Kristian Zouaoui med denne tekst:
"Vedr.
Emilie Henriksen
's broderi er det en lang historie, som jeg kan takke afdøde
Ole Kraul
for.
Han overtog broderiet i 1971 ved Henriksens død, sammen med hendes 3 fotoalbum og mange udklip.
Broderiet er det originale fra 1965, de 2 andre - det i Horsens og det i London - er produceret året efter.
Fru Henriksen mødte
agterskytten
fra
Åle-maskinen
om morgenen efter styrtet men kunne ikke hjælpe
ham til at undgå tilfangetagelse. Hun følte en vis skyld overfor dette og gjorde det til sin mission at
kontakte familiemedlemmer til de dræbte flyvere i årene efter krigen. Hun blev et bindeled og en vigtig
drivkraft bag
mindestenen i Mattrup Skov
og i hendes fotoalbums er billeder af forældre, søskende og
koner til flyverne. Denne kontakt stod på indtil hendes død, hvor Ole Kraul tog over - han drev mindet
videre og var mindst lige så energisk som Fru Henriksen. (Se
foto af og mere om Ole Kraul
. AS)

Cross stitch embroidery with 47 names: Original 1965 * St. Clement Danes 1966 * Horsens 1970
Photo received on 28 March 2011 from Kristian Zouaoui with this text (free translation by AS):
"Emilie Henriksen's piece of embroidery has a long story. I have it thanks to the late Ole Kraul.
After her death in 1971 this piece of embroidery was handed over to him together with her 3 photo albums
and many cuttings. This is the original embroidery from 1965. The 2 other pieces of embroidery - the one
in Horsens and the one in London - were made a year later.
Mrs. Henriksen met the Rear Gunner from the Aale-plane in the morning after the crash, but she was unable
to help him avoid being captured. She felt a certain guilt because of that and she made it her mission to
contact relatives of the deceased airmen in the years after the war. She became a connecting link and an incentive behind the memorial stone in Mattrup Forest. Her photo albums contain photos of parents, brothers and sisters and wives of the airmen. The contact went on till her death, when Ole Kraul took over and carried
on with at least the same energy shown by Mrs. Henriksen. (See photo of and more about Ole Kraul. AS)

Files and objects from Ole Kraul and Mrs. Henriksen are now in my archive - except her letters which were
presented to The Museum of Danish Resistance 1940-45 in Copenhagen." (- and there are a number of boxes!
This website has letters from Stanley F. Hodge and about Peter Alan Crosby and Milton Harold Bender. AS)
See 47 names * Google Map HorsensEH47 * Original + Horsens.