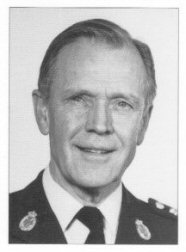 In the text about the Memorial Stone in Rebild Hills to 69 Allied airmen who lost their lives in supply operations to the Danish
Resistance it is mentioned

that it was erected in 1990 on the initiative of Colonel Helge W. Gram.

In 1988 his idea of a memorial was supported by 5 prominent figures from the Danish resistance movement and the leading
historian of underground warfare in Denmark. Flemming Juncker, Anton Toldstrup, Svend Truelsen, Ole Lippmann, Erik Frandsen
and Jørgen Hæstrup signed an Appeal for a memorial to 69 Allied airmen.

To find the right stone, decide on the inscription and the design, find the right place for the memorial stone, get the work done and
paid for, to arrange a suitable unveiling with invited guests and people with an interest in airmen demanded a good cooperation
between many people – and Helge W. Gram pulled the right strings.
Crown Prince Frederik unveiled the memorial on 5 May 1990, see photos from the event.


Equerry to the Queen behind Rebild-monument
was the headline in the Flensborg Avis on 26 August 1989, written by Erik Eriksen. (Abstract:)


Helge William Gram, Colonel, retired, was born on 2 December 1929 in Copenhagen.

He served in the Danish Army from 1948 until 1992, the last six years as First and Principal Military Aide-de-Camp to Her Majesty the Queen of Denmark.

During this service he was appointed Chamberlain and Knight Commander 1st Class of the Order of the Dannebrog. He lives in Zealand with his wife Gerda Lunn Gram, Ph.D.

For a number of years Colonel Helge Gram, with the official title First and Principal Military Aide-de-Camp to Her Majesty the
Queen of Denmark has been occupied with the air war over Europe during World War 2. He has calculated that allied planes flew
over Denmark about 40,000 times on their way to or from bombing raids on Germany or minelaying operations. Only a very small
part of the flights involved supplies of weapons for the Danish resistance.

During 677 sorties in 415 operations only 18 planes were lost. From 15 planes 69 airmen lost their lives. Nearly 400 places in
Denmark were accepted as drop zones – 280 in Jutland, 80 in Zealand and 30 in Funen. From August 1944 and to the end of the
war 6,245 containers with 655 tons of weapons, explosives, ammunition and radio equipment were received in 277 drop zones.
(See Google Map Rebild with the 15 planes lost with the loss of 69 lives + 3 planes lost without loss of lives. AS)
"But the 677 sorties left a lasting impression on the years of occupation, ensured the arming of the resistance movement and
provided the material basis for at least 4,481 sabotage actions: 1,810 against railways and 2,671 against industrial companies
working for the occupation forces. (Successful airdrops over DK: RAF 284, USAAF 168. Failed: 225 sorties. 284+168+225=677)

With the mapping of the supply flights I have tried to get some knowledge of what happened, when I was only a big boy.
How the basis for the armed resistance was provided. What happened to the weapons that the allied provided the resistance fighters with at such great costs, and the allied losses due to these supply operations." (Flensborg Avis)

In 1998 Helge W. Gram wrote Shot down over Denmark – a fine book with an overview and many details, still for sale at The Museum of Danish Resistance.
In 1994 the CWGC accepted that a till then unknown Squadron Leader buried in Esbjerg had to be Squadron Leader John Colverd Richards from LAN ED818.

In 1998 The Denmark Team (Niels Erik Stampe, Anders Bjørnvad, Ole Rønnest, R.G. Cobley and Helge W. Gram, all of them MBE) identified the airmen Cochrane, Cowham, Carter and Sidwell. After investigation of LAN ED709 at the bottom of Ringkøbing Fjord the team also found and identified Whellams in 1998.
The 5 airmen are buried in Lemvig.
In 2000 Helge W. Gram identified the Norwegian Sub Lieutenant Herman Hirsch Becker from the Shell House Attack. See RAF-memorial. He rests in Tranebjerg.

In 2002 he started the work of convincing the CWGC that it was Halifax DT628 that crashed at Halskov and that the crew were taken to Bispebjerg Cemetery.
A little hard to explain why there are only 6 headstones to unknown airmen with the date 21st April 1943 when there were 8 airmen in the aircraft. In 2011 I did it.
One of the most important pieces in the puzzle was his document from Luftgaukommando XI stating that the bomber that crashed at Halskov was a Halifax!
Unfortunately it appeared to be a Lancaster, so the German report was wrong.

Since 2008 Helge W. Gram supported my work with www.airmen.dk in many ways – and after his death his comprehensive archive was passed on to me.
After me it will be passed on to the Archives of Danish Occupation History 1940-1945. His work and knowledge of Allied airmen was very impressing!

On Saturday 7 November 2009 he was pleased to see most of this page in a preliminary Danish version. Helge W. Gram passed away on Friday 13 November 2009!