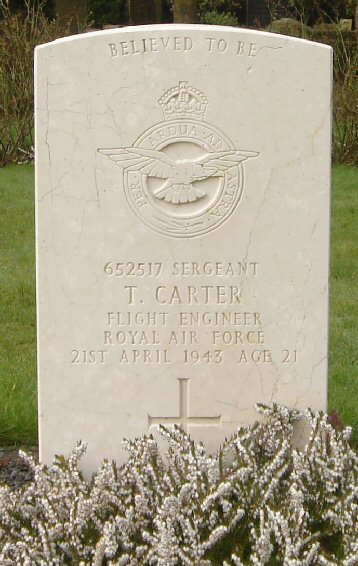 Thomas Carter Updated: 26 NOV 2021
Airman: a050042.htm Surname: Carter Init: T Rank: Sgt Service: RAF Sqdn: 100
P_link: p167.htm Plane: LAN ED709 Operation: Bomb G Crash_site: Ringkøbing Fjord
Crash_d: d210443 Buried_d: b280543 C_link: c050.htm At_Next: Lemvig, Grave 705

Efter at have bombet Stettin blev Lancaster ED 709 på hjemvejen ramt af flak ved Jyllands vestkyst.
Kl. 03:28 styrtede det i Ringkøbing Fjord på lavt vand her ca. 600 m fra kysten. Alle 7 besætnings-medlemmer blev dræbt ved styrtet. 1 mand har ikke nogen kendt grav. De 6 andre blev begravet
efterhånden som de blev fundet - Sgt R.A. Whellams i 1998! I første omgang blev Sgt T. Carter og
Sgt R.S. Sidwell begravet som ukendte - senere identificeret af danskere.
Se Helge W. Gram - Lancaster ED709.
Se fotos og mere i Flyvere identificeret 1 * 2 * 3 * 4 * 5 Google Map p167 Lancaster ED709

22 MAY 1943. En flyver fundet omkring her. Engelsk flyveruniform. Et "E" over venstre brystlomme,
sergent. (Kilde: Politirapport 1043) Passer med Sgt Flight Engineer T. Carter, men først i 1998 fik han en
headstone med navn, og det var med tilføjelsen "Antages at være - - " ) Se Flyvere identificeret.

Sergeant (Flight Engineer) Thomas Carter, 21 år, var søn af Thomas og Hannah Carter, Liverpool,
United Kingdom. (Kilde: CWGC)
Se Lancaster fotos og Stettin + Rostock 20 - 21 April 1943. 7 flyvere.



Returning from a bombing raid to Stettin Lancaster ED 709 was hit by flak at the west coast of
Jutland. At 03:28 it crashed into the shallow waters of the Ringkøbing Fjord here about 600 m off the
coast. All 7 members of the crew perished in the crash. 1 man has no known grave. The 6 others were
buried in the course of time when they were found - Sgt R.A. Whellams in 1998!
At first Sgt T. Carter and Sgt R.S. Sidwell were buried as unknown - later identified by Danes.
See Helge W. Gram - Lancaster ED709.
See photos and more on Airmen identified 1*2*3*4*5 Google Map p167 Lancaster ED709
22 MAY 1943. An airman found about here. Tunic had an "E" on top left chest pocket. Sgt. (Source: Police report 1043)
Matches Sgt Flight Engineer T. Carter, but not until 1998 did he have a headstone with his name, and it was with the addition:
"Believed to be - - " See Airmen identified.

Sergeant (Flight Engineer) Thomas Carter, 21, was the son of Thomas and Hannah Carter, of Liverpool, United Kingdom. (Source: CWGC)
He is remembered on The Walls of Names at the International Bomber Command Centre, Phase 1, Panel 18.
See No.100 Squadron RAF-Wikipedia * No. 100 Squadron Association * RAF-Lincolnshire with RAF Grimsby * Lancaster * Lancaster Photos.
Lancaster III ED709 HW-S took off from RAF Grimsby at 21.59 hrs on 20 APR 1943. (Source: Aircrew Remembered has this.)
It had a Rolls-Royce Merlin variant XX engine produced by Rolls-Royce in the United Kingdom. (Source: The RAF Museum, London)
See Stettin + Rostock 20 - 21 April 1943. 7 airmen.