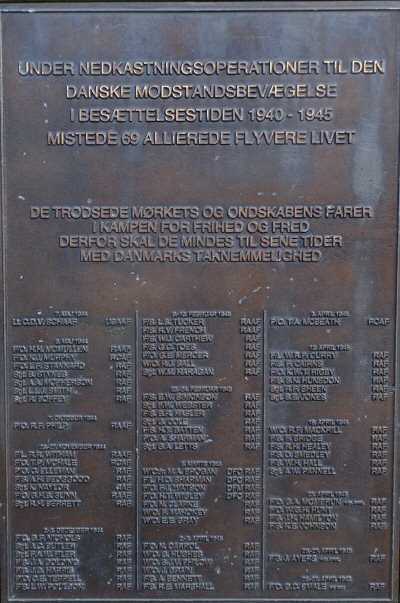 Rebild

Mindetavle

Memorial Plaque Updated:08 JUL 2021

Inskription: Under nedkastningsoperationer til den danske modstandsbevægelse
i besættelsestiden 1940-1945 mistede 69 allierede flyvere livet.

De trodsede mørkets og ondskabens farer i kampen for frihed og fred.
Derfor skal de mindes til sene tider med Danmarks taknemmelighed.
Flyverstenen med denne Mindetavle står her i Rebild ved Rebildvej 27, 9520 Skørping.
Se de 69 flyvere og deres fly. Se alle 99 flyvere fra disse 15 fly. Se Google Map Rebild 15 + 3
og Arne Mosgaard med Mindesmærke i Rebild Bakker og våbenflyvninger.
Se hele Flyverstenen i 2012. Rebildselskabet fejrer 4. juli hvert år i Rebild Bakker.
Se Rebild 2012+2021. Se 69 flyvere - St. Clement Danes. * USAAF-flyvere * US-Steder

Verset skyldes den jyske modtagechef Jens Toldstrup - se Toldstrup - Rebild og mange fotos.
Mindestenen blev afsløret af Hans Kongelige Højhed Kronprins Frederik den 5. maj 1990.
Initiativtager til stenens rejsning var oberst, kammerherre Helge W. Gram. (Kilde: KM)
Se mere om Helge W. Gram, flyvere og nedkastningsoperationer.



Inscription: 69 allied airmen lost their lives in supply operations
to the Danish resistance movement during the occupation 1940-1945.
They defied the perils of darkness and evil in the fight for freedom and peace.
They will always be remembered with gratitude by the people of Denmark.
The Aviator Stone with this Memorial plaque is here in Rebild at Rebildvej 27, DK-9520 Skørping.
See the 69 airmen and their planes. See all of the 99 airmen from planes on Google Map Rebild
and Arne Mosgaard about the Memorial at Rebild Hills. See all of the Aviator Stone in 2012.
Every year the Rebild National Park Society celebrates 4 July in the Rebild Hills.
See Rebild 2012+2021 * 69 airmen - St. Clement Danes. * USAAF-airmen * US-Sites

The verse was written by Jens Toldstrup, chief of supply operations, see Toldstrup - Rebild.
The memorial stone was unveiled by His Royal Highness Crown Prince Frederik on 5 May 1990.
The originator of the project to erect the stone was Colonel Helge W. Gram, Lord-in-Waiting.
(Source: KM) See more about Helge W. Gram, airmen and supply operations.