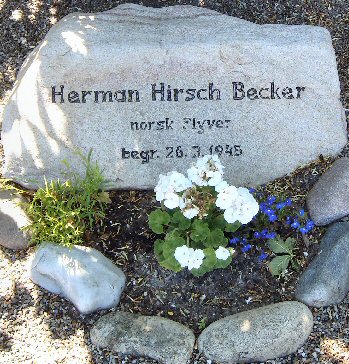 Herman Hirsch Becker Updated: 24 FEB 2020
Photo with wreath: Helge W. Gram
Airman: a103010.htm Surname: Becker Init: H H Rank: Fen Service: RNAF Sqdn: 464
P_link: p413.htm Plane: MOS RS609 Operation: Attack DK Crash_site: Kattegat.
Crash_d: d210345 Buried_d: b260345 C_link: c103.htm At_Next: Tranebjerg

MOS RS609 tog del i angrebet på Gestapos hovedkvarter i København den 21. marts 1945. Se de
mange links om Shellhuset. Se Fotos og Google Map Shell House Shellhuset.
Se også Mosquito fotos og Google Map 14 Mosquitoes DK og Mustang fotos.
Se også Kort over angrebet på Shellhuset fra Derek Carter.

MOS RS609 blev på tilbageturen mod England ramt af flak fra tyske stillinger ved Hundested (omkring her)
og styrtede i havet øst for Samsø. Begge flyvere blev meldt savnede. F/O (Pilot) J. H. Palmer har ingen
kendt grav.

Fenrik (Navigator) H.H. Becker blev fundet drevet i land på Vejrø (her) 25. marts i uniform men uden papirer eller identifikation. Han blev begravet som ukendt 26. marts 1945 i Tranebjerg. Det lykkedes oberst
Helge W. Gram, der bl.a. havde været med til at identificere flyvere i Lemvig, at samle brikkerne i
puslespillet. Det kunne kun være Herman Hirsch Becker som fortalt i Aftenposten i 2000. Artiklen viser
også, hvordan jøder i Norge blev behandlet af tyskerne helt anderledes end i Danmark, se
Redningen af de danske jøder. - Kransen i de norske farver blev lagt på graven en 17. maj!
(17. maj er den norske parallel til den amerikanske 4. juli og den danske 5. juni)

Se også Fra Stavanger til Samsø (6.17 MB pdf) af Bernard Duncan Lyng i tidsskriftet historie.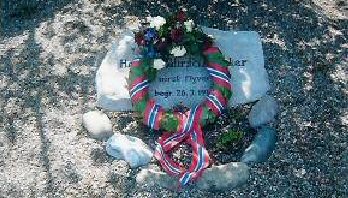 Arne Austeen og Ivar Larson var også fra Norge.



MOS RS609 took part in the attack on the Gestapo HQ in Copenhagen on March 21, 1945.
See the many links about the Shell House. See Photos and Google Map Shell House.
See also Mosquito Photos and Google Map 14 Mosquitoes DK and Mustang Photos.
See Map of the air raid on the Shell House from Derek Carter.
On the return flight to England MOS RS609 was attacked by flak from German positions at Hundested
(about here) and crashed into the sea east of Samsø. Both airmen were reported missing.
F/O (Pilot) J.H. Palmer has no known grave.
Fenrik (Navigator) H.H. Becker was found on March 25 washed ashore on Vejrø (here) in uniform but without papers or identification. Colonel Helge W. Gram of the Denmark Team had helped identifying airmen in Lemvig. Now he succeeded in putting the pieces of the puzzle together. It could only be Herman Hirsch Becker as told in Aftenposten in 2000. The article also shows, how Jews in Norway were treated by the Germans quite
different from Jews in Denmark, where nearly all Jews evaded to Sweden. -
The wreath in Norwegian colours was laid on the grave on a 17 May. (17 May is the Norwegian parallel to the American 4 July and the Danish 5 June.)

See Herman Hirsch Becker's War, Part I and Herman Hirsch Becker's War, Part II by Frode Sæland in Scandinavian Jewish Forum.
See also From Stavanger to Samsø (6.17 MB pdf) by Bernard Duncan Lyng in the magazine historie - in Norwegian, but with a number of photos.
Arne Austeen and Ivar Larson were also from Norway.
This Mosquito from No. 464 Squadron RAF-Wikipedia took off from RAF Fersfield. See p413MACR. 2 airmen.