Shellhusangrebet - The Shell House Attack - RAF-minde - RAF memorial plaque 19 MAY 2021




Huset*Dansk mindetavle*RAF mindetavle*Sdr Boulevard*Den Franske Skole

The House*Danish memorial*RAF memorial*Sdr Boulevard*The French School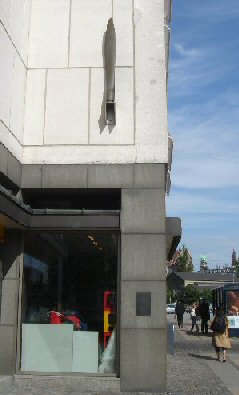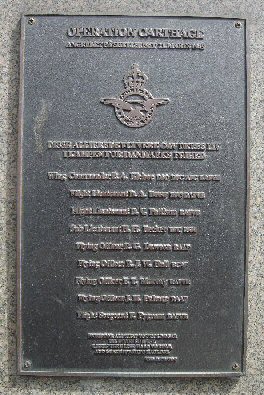 Mindetavlen blev opsat her under Mosquito-propellen for midler skaffet af
en komite med Ove Hermansen, John Schou Nielsen, Palle Krag, Villy Schøtt
og Derek Carter. Se om mindet og mindedagen. Plakat? Mail til Derek Carter.
Tavlen blev afsløret på 50 årsdagen for angrebet, 21. marts 1995, i overværelse
af bl. a. Squadron Leader E.B. Sismore og 6 flyvere fra angrebet samt
Ole Lippmann, der havde bedt om angrebet, og af 3 fangerne fra Shellhuset.

OPERATION CARTHAGE angrebet på Shellhuset 21. marts 1945.
Disse allierede flyvere gav deres liv i kampen for Danmarks frihed.
Wing Commander P.A. Kleboe DSO DFC AFC RAFVR
Flight Lieutenant D.A. Drew DFC RAFVR
Flight Lieutenant D.V. Pattison RAFVR
Sub Lieutenant H.H. Becker DFC RNN (Tranebjerg, Samsø)
Flying Officer R.G. Dawson RAAF
Flying Officer R.J.W. Hall RCAF
Flying Officer F.T. Murray RAFVR
Flying Officer J.H. Palmer RAAF
Flight Sergeant F. Pygram RAFVR
Kæmp for alt, hvad du har kært,
dø, om så det gælder!
Da er livet ej så svært,
døden ikke heller. Chr. Richardt.
MUS KH446 nødlandede på tilbagevejen, piloten fanget. 4 MOS + 2 MUS tabt.
Major Arne Austeen fra Norge var leder af 14 Mustangs fra 126 Squadron.
Han blev skudt ned omkring her mellem Als og Ærø den 4. maj 1945! DZ414.

F/Lt R. Peel i en Mosquito overlevede. Han døde i 1987. Han er begravet i Sønderho på Fanø. Hans søn Robert Peel døde 2020. Han sendte fotos MOS KA114*Grove



The memorial plaque was set up here below the Mosquito propeller blade for means provided by a committee with Ove Hermansen, John Schou Nielsen, Palle Krag, Villy Schøtt and Derek Carter. It was unveiled on the 50th Anniversary of the attack in the presence of Squadron Leader E.B. Sismore - Edward Sismore - obituary
6 airmen from the attack and others. Also Ole Lippmann, who had requested the attack, and 3 prisoners from the Shell Building were there. Print? Mail to Derek Carter.

OPERATION CARTHAGE The attack on the Shell House 21 March, 1945. These allied airmen gave their lives in the battle for the freedom of Denmark.
Fight for all that you hold dear / die if so you must / life is then less hard to bear / and death its sting has lost. Chr. Richardt.
MUS KH446 made a forced landing on the return flight. The pilot was captured. 4 MOS + 2 MUS lost. See also MOS DZ414 of the RAF Film Production Unit.
Major Arne Austeen from Norway was in charge of 14 Mustangs from 126 Squadron. He was shot down over the Baltic Sea between Als and Ærø on 4 May 1945!
F/Lt R. Peel in a Mosquito survived. He died in 1987. He rests in Sønderho, Fanø. His son Robert Peel died in 2020. He sent photos MOS KA114*Grove to AirmenDK.
Robert Peel was the Navigator of John Ellacombe, see the obituary in The Daily Telegraph. John Ellacombe died on 11 May 2014. Robert Peel attended his funeral in UK.