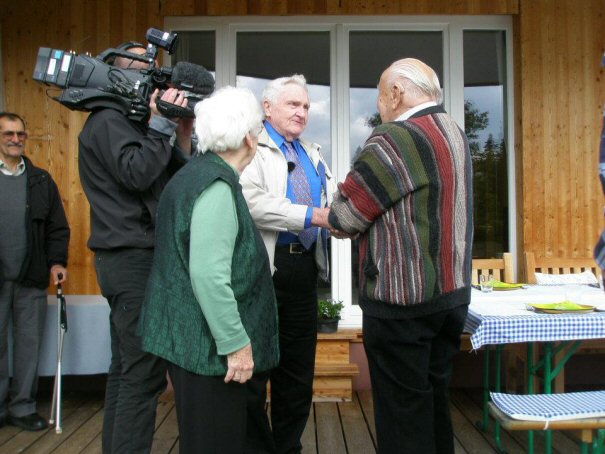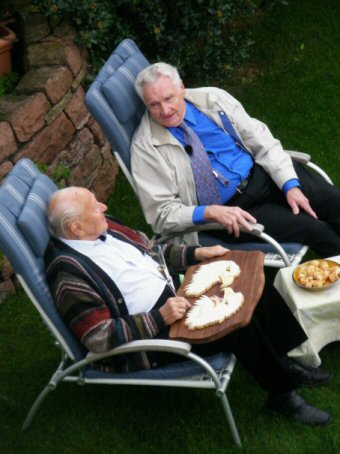 Den 22. februar 1944 styrtede B17 42-31377 ned her i Thy efter at besætningen med Sgt Lester Schrenk var sprunget ud med faldskærm. ID+Lester Schrenk.
Den 23. april 2012 besøgte Lester Schrenk og hans familie tidligere Oberleutnant Hans Hermann Müller, som skød Schrenks B-17 Pot O' Gold ned. Se telegram.
Se Lester Schrenk og Hans Hermann Müller i uniform og TV indslag fra 25. april 2012 2 min. 47 sek. TV MIDTVEST: Dødsfjender bliver venner (klik på
ikonet for AFSPIL og til højre på linjen på ikonet for FULD SKÆRM) Se tekst. Se også FILM fra 2008 B17 Flystyrt over Sønderhaa 23 min og
27. marts 2013 28 min. 30 sek. TV MIDTVEST: Dødsfjender. Se 21. september 2013 Bunkerne - Dødens Forposter (film, 28 min.) med mere om nedskydning
af B17 42-31377 med Lester Schrenk og LAN EE138, se denne side. Der er sekvenser med Jessie Bowler og Lester Schrenk. Hendes historie blev
også fortalt i Det lange farvel The long Farewell (film, 21 min 28 December 2008.) 19 NOV 2023 Lester Schrenk 100 Link til TV-indslag og artikel.
Se Fliegerhorst Grove med Afsnit 4 1944-1945 med mere om nedskydningen. B-17 Flight 2013 fortæller om Lester Schrenks flyvetur den 13. juli 2013 i en B-17.
Se artikel af Villy Dall i Thisted Dagblad den 22. februar 2014 Kom ned med faldskærm i Thy for 70 år siden - pdf-fil fra Lars Kanstrup købt hos NORDJYSKE.
En reaktion var Beretning fra Herluf Munkholm der kan sammenholdes med Lester Schrenk - Den dag jeg blev taget til fange. Foto af HHM's JU 88



On 22 February 1944 B17 42-31377 crashed here in Thy after the crew with Sgt Lester Schrenk had bailed out. See ID + Lester Schrenk.
On 23 April 2012 Lester Schrenk and his family visited former Oberleutnant Hans Hermann Müller who shot down Schrenk's B-17 Pot O' Gold.
See Lester Schrenk and Hans Hermann Müller in uniforms and Film from 2008 B17 Air crash over Sønderhaa 23 min. in Danish + Lester Schrenk
25 April 2012 2 min. 47 sec. TV MIDTVEST: Mortal Enemies become friends (click on icons for PLAY and for FULL SCREEN) Print the speech.
See FILM from 27 March 2013 28 min. 30 sec. TV/MIDT-VEST: Mortal Enemies.19 NOV 2023 Lester Schrenk 100 TV-item+article+translation on TV MIDTVEST.
On 21 September 2013 that film was followed by Bunkerne - Dødens Forposter The Bunkers - Outposts of Death (film, 38 min.) with more about the shotdown of
B17 42-31377 Pot O'Gold with Lester Schrenk and LAN EE138, see also Stadil - Memorial. There are sequences with Jessie Bowler and Lester Schrenk.

On 23 MAY 2015 PIONEER PRESS had the story that the film "Mortal Enemies" by Danish TV would air on 24 MAY 2015 on Twin Cities Public Television!
See Fliegerhorst Grove with Part 4 1944-1945 with more about the shootdown. See also B-17 Flight 2013 about Lester Schrenk's flight on 13 July 2013.
See also the article Came down by parachute in Thy on this day 70 years ago from 22 February 2014 written by Villy Dall, translated into English by AS and KK.
A response was Account from Herluf Munkholm which you may compare with Lester Schrenk - The day of my capture. See telegram to his parents.
The Log Book Project has Lester Schrenk and The Caterpillar Club: The Lester Schrenk story - Links from AirmenDK on 27 OCT 2022, mail from Lars McKie.
See connected to the project A War Journal's Journey for Peace (9 min. including 2 min. with Les) from NHK-World Japan News received from Les on 22 NOV 2022.

On 3 May 2012 Lester Schrenk sent this to a number of friends when he was back in Bloomington, Minnesota again -
and on 9 May 2012 he added his letter that started it all. On 29 May 2012 he sent How I met the German Pilot. Photo of HHM's JU 88 was added in DEC 2012.

We have just returned from a trip to Germany to visit the German pilot, Hans Hermann Muller, who shot down our plane on 2/22/44 during WWII over the North Sea
and the plane crashed in northern Denmark.
The meeting took place in Heidelberg at his Daughter's house who had planned a garden party fit for a king. As soon as we met we became friends joking and
recalling old war stories. Understanding was no problem as he, his Daughter Birgit and her Husband Thomas and Grand Daughter Daniela all spoke perfect English.
The entire event was covered by a Danish film crew making a documentary for TV.
The next day a meeting was arranged at city hall with the Deputy Mayor of Heidelberg to welcome us to Heidelberg. Here were 8 various news media including
World News and other newspapers and also TV film crews to welcome us. I have never seen so many flash photos in my life. It was endless.
Next was an interview by the Deputy Mayor of both Hans Hermann and myself. I found it most enjoyable. The Deputy Mayor gave me a very nice book of the sights
of Heidelberg. He was very nice and really did make us feel welcome.
(See Heidelberg in Wikipedia, Heidelberg Tourism and the official website of the City of Heidelberg)
Next Hans Hermann and his wife Lydia took us to a top notch restaurant for a dinner and as always at any event, beer flowed freely. It was most enjoyable.
Later they gave us a tour of the old section of Heidelberg. It was wonderful.
The next day we were invited for a boat cruise on the Neckar River to view the sights and old castles along the way. Endless sights we could only have imagined,
and either Hans Hermann, Birgit or Daniela were there to explain the points of interests, each of them had a charm of their own. Also, language was never a
problem. Then Hans Hermann again treated us to a full dinner and beer while on the boat.
By this time strangers would approach us and wish to shake our hand and to indicate that they had read the story in the newspapers. Always the feeling was positive. Everyone was most friendly. This happened dozens of times while we were in the Heidelberg area. It made us feel like celebrities.
Before leaving Heidelberg, Hans Herman and Lydia again invited us to their house for what she called a snack, but which was more like a 5 course meal.
Saying goodbye was very hard. Neither of us wanted to part. We had become very good friends and sadly said goodbye.
We had rented a car and along with our daughter, Ginny, her husband, Al, and a very good Friend from Denmark, Nikolaj Bojer. Nikolaj was very instrumental in
helping locating Hans Hermann, the German pilot, and did much in making the necessary arrangements for the trip.
After leaving Heidelberg, we drove along the Rhine River and saw many scenic sights and old castles along the way. When we reached the town of Remagen (the
very famous bridge in WWII) we stayed for the night as we wished to view the bridge and towers and railroad tunnels that were so famous during World War II.
There was a news man interviewing a man who had just written a book about the famous bridge. Nikolaj told him about my story and the photos and interview
started all over again. This man promised that he would send a DVD as soon as he had it finished. I am certain that he will do so.
The former Mayor was also there and he invited us to his house for wine that evening. Here he also gave me a book that he had written about the WWII events on
the bridge. We spent a lovely evening with him and his wife.
Along the way we visited many old towns all with very narrow streets, many with several old castles. Soon we reached the Bavarian Alps with snow covered mountains.
We crossed into Austria to spend the night, and saw beautiful scenery and mountains all along the way and of course more beautiful castles. On the way back we
went through the Black Forest and visited a clock museum.
Sadly time to return home approached much too quickly and it was time to say goodbye.
I had forgotten to mention, the TV film crew was the same one that had filmed the TV documentary of our visit to the crash site of our plane in Northern Denmark in
May 2008, so we knew them well and also enjoyed their company. The film company also paid for our tickets and hotels while in Heidelberg. What could be better??
The trip and visit were the best ever. Never a problem, everyone we met was very friendly and helpful. It just could not have been better.
Les Schrenk