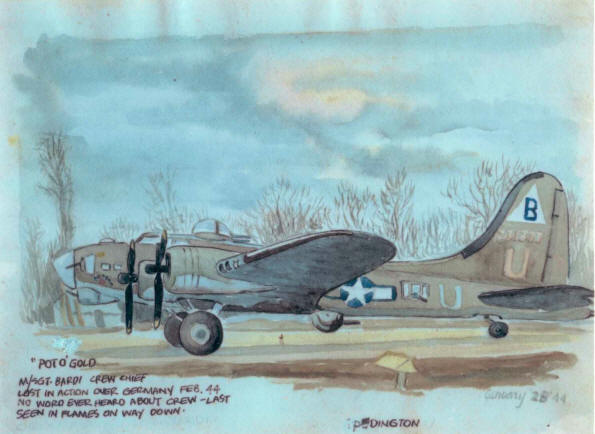 B17 42-31377 B-UX Pot O' Gold styrtede ned i Thy
ved Hørdum her, overblik her, med

Sgt Lester Schrenk, 20 år, Ball Turret Gunner på flyet.

Han blev krigsfange. Se fotos fra hans besøg i Danmark i 2008.
Ved den lejlighed fik han ID-plade fra flyet.

Den 21. januar 2012 sendte han et foto af dette maleri og skrev:

"Jeg var meget heldig med at finde et maleri af Pot O' Gold
lavet af Master Sergeant Bardi, da kameraer ikke var tilladt på vores base i Podington.

Jeg havde skrevet på nettet, at jeg gerne ville have
et foto. Nogle få måneder senere fik jeg dette fra en ukendt
person, som slog fast at jeg havde været heldig.

Jeg prøvede forgæves at finde ham.
Han må have afsluttet maleriet efter at vi blev skudt ned med
billedteksten nederst til venstre på maleriet."

Se Tegning af besætningen på en B-17
Foto af en B-17 + B-17 i airmen.dk

B-17 Ball Turret, Ammunition og Ball Turret Gunner
B-17 Flyvende Fæstning.


On 22 February 1944 B17 42-31377 B-UX Pot O' Gold crashed here, overview here with Sgt Lester Schrenk, 20, Ball Turret Gunner. He became a POW.
See photos from his visit to Denmark 2008. On that occasion he was presented with the ID-plate! On 21 January 2012 he sent a photo of this painting and added:

"I was very fortunate in finding a painting of Pot O' Gold as cameras on our base at Podington were not allowed. This is a painting of Pot O' Gold done by the crew
chief Master Sergeant Bardi. I had posted on the web that I was searching for a photo. A few months later I received this painting from an unknown person stating
that I had been lucky. I tried in vain to locate Master Sergeant Bardi to no avail.
He must have finished the painting after we were shot down with the caption on the lower left of the painting."
See Drawing of the crew of a B-17 * Photo of a B-17 + B-17s in airmen.dk * B-17 Ball Turret, Ammunition and the story of a Ball Turret Gunner.