From David Whiting Photo of 22 May 2014. DW and his daughters Philippa Forsey and Sarah Whiting. Updated: 10 AUG 2014

<![if !vml]>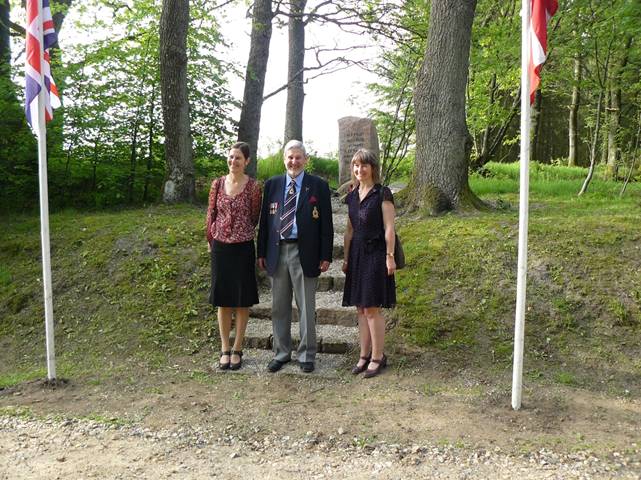 <![endif]>
1949*1986*Awards*DW+Medals*1994*2014

On 13 May 2014 David Whiting kindly
sent a number of documents and photos
to be published on www.airmen.dk.
Pilot Officer Jack Maxwell Whiting was the
Flight Engineer of Lancaster LL950 that
crashed near Vesterlund in Jutland, Denmark,
on 22 May 1944. He was the father of David Whiting.
See newspaper article and police report and
Reports about a crashed aircraft.
See
photo of R.W. Bailey, J.M. Whiting and others.
A Memorial stone to the crew and one to
each airman was erected here at the crash
site, overview here and here.
Follow sign here at
Vesterlundvej 68, DK-7323 Give
to the Memorial stones.
On 22 May 2014 at the wreathlaying ceremony attended by Britons and Danes in memory of the crew that perished 70 years ago David Whiting held this speech (and also representing the Group Captain David Houghton, president of the 57 & 630 Squadrons Association):
"The early stages of the Second World War saw successful German invasions on the continent supported by Luftwaffe air power able to establish tactical air superiority.
On 10 May 1940, the Germans invaded France and on 22 June the French surrendered. Germany now ruled most of central Europe; from Poland to France, Denmark and Norway.
RAF Fighter Command defended the United Kingdom against German aerial attacks, most notably during the Battle of Britain in the summer of 1940. (See note below)
RAF Bomber Command's role was to attack the enemy's own military strength.
Aerial bombing offered the only chance to bring the war to Germany itself and Britain was the only country left in Europe with the military strength to do it.
A major logistical centre in the Ruhr and location of chemical, steel and iron industries, Duisburg was a primary target of Allied bombers. As such, it is considered by some historians to be the single most heavily bombed German city by the Allies during World War II.
The main target for Bomber Command on the night of 21st/22nd May 1944 was Duisburg and a force of 510 Lancasters and 22 Mosquitoes were dispatched.
That raid alone cost 29 Lancasters and around 200 crew-members killed. The southern part of Duisburg was heavily bombed with 350 buildings destroyed,
665 damaged and 124 people killed.
The other significant operation on the night of 21/22 May was a diversion by 5 Group, Bomber Command to draw the German night fighters away from the main raid - Duisburg.
Code named 'Gardening' (mine-laying) this was an operation carried out by 70 Lancasters from six squadrons and 37 Halifaxes to the Frisians, Heligoland, the
Kattegat and Kiel Bay (code named 'Forget-me-Not'). Fourteen of the aircraft were from 630 Squadron tasked to mine the Kiel area. 3 Lancasters were shot down,
one of which was the Lancaster and 7 airmen that we are here to remember today.
All Bomber Command aircrews were volunteers. Over 55,500 gave their lives to help free Europe. We remember them for their courage and sacrifice." (Links by AS)
Note: Seeing this on AirmenDK David Whiting added:
"I mentioned this firstly as the pilots of Fighter Command had all the glory in defending the homeland from German invasion while Bomber Command suffered more
and for years were not recognised for the great sacrifice they made during long nights flying over enemy territory. Historians have the view that this was largely due
to Air Chief Marshal Sir Hugh Dowding, who built up the new Fighter Command from it's formation in July 1936. Due to him we had the 8-gun monoplane fighter
(Hurricane & Spitfire), what we now call radar working with the Royal Observer Corps and wireless communication all linked to a unique command system known as
the "Dowding System".
My link to Lord Dowding is that my mother wrote to him seeking information about her husband whose Lancaster had been reported missing and wondered if he might have bailed out of the aircraft and survived and was perhaps in hiding or in a prisoner of war camp somewhere, as communications at there time were very unreliable.
I first met Lord Dowding in 1946 when he used to drive down from London visit my mother who lived near Tunbridge Wells, Kent. They married on my birthday in 1951."
David Whiting added that his father first served with 9 Squadron and moved to East Kirkby when 630 Squadron was formed.
Dowding had his flying license in 1913 as he recounts in A Lifetime of Aviation. In 1968 Air Chief Marshal Hugh C. Dowding was interviewed by the BBC.
(See also Danish Memorials and his statue at St. Clement Danes. AS)