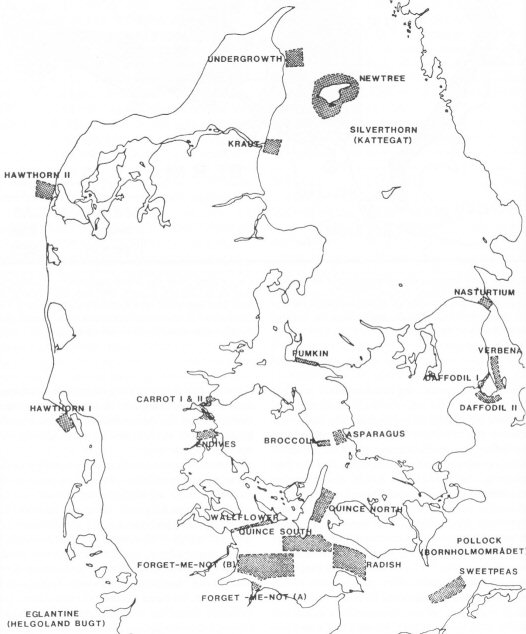 Minelægningsområder se også Fly og opgaver.
Magnet-mine* Miner 1939-40* Miner 1940* Miner 1939-45
Minelaying areas Planes and missions 16 MAY 2022
Magnetic mine * Mines 1939-40 * Mines 1940 * Mines 1939-45
Områder i farver


Engelske minelægningsområder baseret på
'Gardening Areas - Codes' (Air 14/2064, 28/882 samt 15/549
fra Henrik Skov Kristensen, Claus Kofoed og Frank Weber:
Vestallierede luftangreb i Danmark under 2. verdenskrig s. 324
(Revideret udgave i 2012 som "Bomber over Danmark".)
Arthur T. Harris foreslog 11. april 1940 følgende kodebrug:
"Nedkastningen af magnet-miner skulle kaldes "gardening" (havearbejde).
Minerne skulle derfor kaldes "vegetables" (grøntsager). Minelægnings-
områderne skulle have et bogstav i alfabetisk rækkefølge, efterhånden
som de blev udpeget. Samtidigt skulle de have et kodenavn, lydende på
en grønsag eller en anden vækst som begyndte med minelægnings-
områdets kodebogstav. F.eks. skulle kodenavnene for "A", "B" og "C"
være henholdsvis "Asparagus", "Broccoli" og "Carrots". At der f.eks.
skulle lægges 8 miner i "B" kom i kodesprog til at hedde, at der under
"gardening" skulle plantes 8 broccoli." (VELU s. 320) Lillebæltsbro.
Areas in colour


English minelaying areas based on
'Gardening Areas - Codes' (Air 14/2064, 28/882 and 15/549
from Henrik Skov Kristensen, Claus Kofoed and Frank Weber:
"Western Allied Air Raids in Denmark during World War II" p. 324.
(The title translated into English. 851 pages, most of them in Danish.
However, all photos have texts also in English and there is a fine
Summary in English and an extensive list of
Select Aircraft and Crews, Air Attacks in Denmark 1939-45)

On 11 April 1940 Arthur T. Harris suggested this use of codes:
"The dropping of magnetic mines should be called gardening. Then
the mines should be called vegetables. The minelaying areas should
have a letter in alphabetical order when they were pointed out. They
should also have a code name with some vegetable or flower starting
with the letter of the area. Then the code names of "A", "B" and "C"
should be "Asparagus", "Broccoli" and "Carrots". To drop 8 mines in "B"
would in the coded language be that 8 broccolis were to be planted
during gardening." (VELU p. 320) Little Belt Bridge.