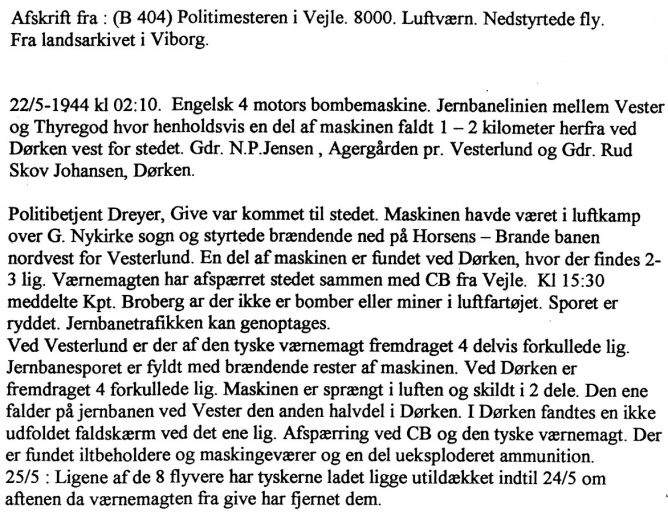 LAN LL950 styrtede ned ved Vesterlund
her (Kilde: David Whiting) hvor 4 flyvere blev fundet.
Den bageste halvdel styrtede ned omkring her
ca 700 m NV for Dørken. 3 lig blev fundet.
(Gert B. Sørensen, nuværende ejer af
Vester Dørkenvej 4, 7323 Give, fastslog at træer
kan ikke gro i lysningen, hvor flyet faldt ned.)


Se også Avisartikel og

Meldinger fra Landscentralen

modtaget fra Arne Mosgaard.

LAN LL950 crashed near Vesterlund
here (Source: David Whiting) where 4 bodies were found. The rear half crashed about here about
700 m NW of Dørken where 3 bodies were found.
(Gert B. Sørensen, the present owner of
Vester Dørkenvej 4, 7323 Give, stated that trees cannot grow in the glade where the plane crashed.)

Translation from Stuart Tamblin,
slightly adjusted by Anders Straarup:
Police Report 22 May 1944
(RAF 630 Squadron Lancaster LL950,
Vesterlund/Dørken)
See also newspaper article and Reports about a crashed aircraft received from Arne Mosgaard.

Transcript of : B404 - Chief of Police, Vejle 8000. Air Defence. Crashed Aircraft. (Danish National Archives, Viborg)

22 May 1944 at 02:10. British four-engined bomber. The railway line between Vester and Thyregod where a part of the aircraft crashed, while another landed one to two kilometres from here towards Dørken (west of the site). N P Jensen, owner of Agergården near Vesterlund and Rud Skov Johansen, owner of a farm in Dørken.
Police Officer Dreyer of Give had arrived at the place. The aircraft had been involved in aerial combat over Øster Nykirke and crashed in flames near the Horsens - Brande railway, north-west of Vesterlund. A part of the aircraft was found near Dørken where two or three bodies were found. The Wehrmacht have cordoned off the site along with the Civil Defence from Vejle. At 15:30, Captain Broberg announced that there were no bombs or mines in the aircraft. The track was cleared. Rail services can resume.
Near Vesterlund, the German Wehrmacht has unearthed four partially-charred bodies. The railway track is filled with burning wreckage from the aircraft. Near Dørken
four charred bodies are unearthed. The aircraft has exploded and separated into two parts. One landed on the railway near Vester, the other in Dørken. In Dørken, there was found an unopened parachute near one of the bodies. Cordoned off by the Civil Defence and the German Wehrmacht. Some oxygen tanks were found, along with machine guns and some unused ammunition.
25 May : The bodies of the eight airmen had been allowed by the Germans to lie out in the open until the evening of 24 May, when the Wehrmacht from Give removed them.