Bomber Command Memorial Photo from David Davidson Battle of Britain Updated: 27 NOV 2013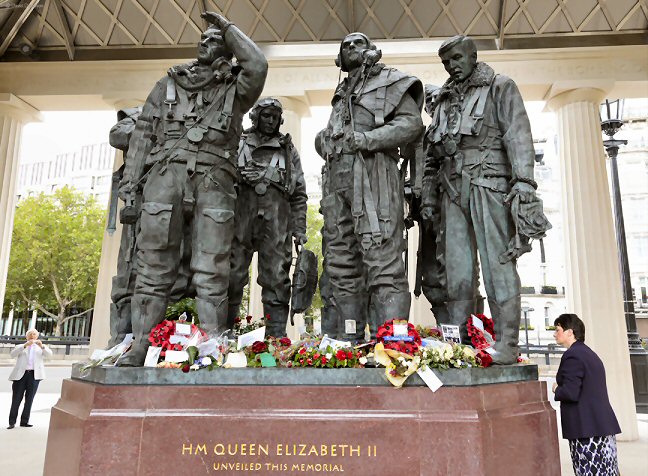 Foto fra 9. juli 2012 taget af David Davidson
udgivet i dette Picasa Album med teksten:

"Mindesmærke i Green Park, London for de
55.573 unge mænd fra Bomber Command,
som gav deres liv i 2. Verdenskrig for os alle.
Endelig får de et passende mindesmærke."

Over for RAF Club, 128 Piccadilly ved Green Park.

En bombebesætning netop vendt hjem fra en
operation prøver at få øje på flere bombemaskiner. Mange vendte ikke tilbage.
Se Tab af liv i luftkrigen med detaljer.
Se fotos fra NOV 2013.

Photo from 9 July 2012 taken by David Davidson published in this Picasa Album with this caption:

"Memorial in Green Park London to the 55,573 young men of Bomber Command who gave their lives in
WW II for us all. At last they have a fitting memorial."

It is opposite RAF Club, 128 Piccadilly at Green Park.

A bomber crew just returned from an operation are
trying to spot more bombers. Many failed to return.
See Loss of Lives in the Air War with details.
See photos from NOV 2013.