<![if !vml]>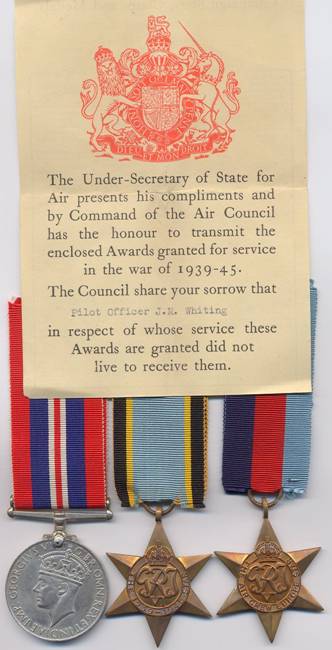 <![endif]>

From David Whiting Updated: 10 AUG 2014
1945*1946,1*1946,2*1948*1949*1986*Awards*DW+Medals*1994*2014

On 13 May 2014 David Whiting kindly sent a number of documents

and photos to be published on www.airmen.dk. Later he sent more.
Pilot Officer Jack Maxwell Whiting was the Flight Engineer

of Lancaster LL950 that crashed near Vesterlund in Jutland, Denmark,

on 22 May 1944. See newspaper article and police report and
Reports about a crashed aircraft. See photo of R.W. Bailey, J.M. Whiting and others.
A Memorial stone to the crew and one to each airman
was erected here at the crash site, overview here and here.
Follow sign here at Vesterlundvej 68, DK-7323 Give
to the Memorial stones.

See David Whiting with the medals his father was awarded:

War Medal 1939-1945 * Air Crew Europe Star * 1939-45 Star - some British campaign medals.

The UK Ministry of Defence has the Guidance Medals: campaigns, descriptions and eligibility
including the 1939 to 1945 Star and the Bomber Command Clasp to the 1939-45 Star.