Vadum Kirkegård - Cemetery Updated: 27 JAN 2022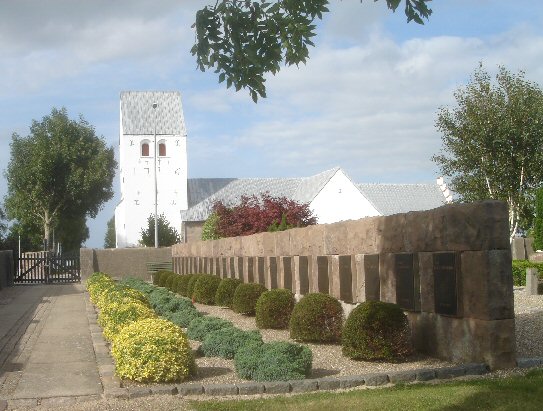 Vadum, 30 flyvere.
Vadum Kirke, Brorholtvej 15, 9430 Vadum i Aalborg Kommune.
Gravene er her syd for vejen, foto 20. august 2013.
Se forskelle mellem de 3 begravelser.
Se mindemuren 1945-2005 og med nye tavler 2005.
Se mindetavlen i midten af dette gravsted.
Se Engelske Flyvergrave i Vadum Lokalhistoriske Arkiv

Se kranse den 13. august 2013 før afsløringen af
Monument p022 BLE T1934 og Monument p023 BLE R3913.
Se angrebet på Aalborg, Fliegerhorst Aalborg West 13 AUG 1940.



Vadum, 30 airmen.
Vadum Kirke, Brorholtvej 15, DK-9430 Vadum in the
Municipality of Aalborg.
This plot is here south of the road, photo 20 August 2013.
See differences between the 3 burials.
See the memorial wall 1945-2005 and with new plaques 2005.
See the memorial tablet at the centre of this plot.

See Engelske Flyvergrave = British War Graves, Vadum

See wreaths laid on 13 August 2013 before the unveiling of
Monument p022 BLE T1934 and Monument p023 BLE R3913.
See Attack on Aalborg Airfield, Fliegerhorst Aalborg West, on 13 AUG 1940.