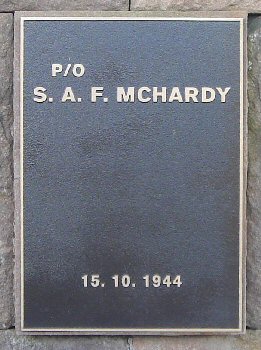 Sidney Alexander Farquharson McHardy 05 MAY 2021
Airman: a107027.htm Surname: McHardy Init: SAF Rank: P/O Service: RCAF Sqdn: 10
P_link: p383.htm Plane: HALMZ826 Operation: Minelaying Crash_site: Nørre Halne
Crash_d: d151044 Buried_d: b030645 C_link: c107.htm At_Next: Vadum

HAL MZ826 styrtede ned i flere dele få hundrede m sydvest for Nørre Halne. Se p383MACR.
De omkomne blev af tyskerne nedgravet her - lidt længere mod syd.
"Under en mineudlægningsoperation den 15. oktober 1944 nedstyrtede et Halifax fly i nærheden af Nørre Halne. 6 af de
7 besætningsmedlemmer omkom. De dræbte blev af tyskerne nedgravet i et område, der var stærkt dækket af "tyske barakker".
Den lokale befolkning var godt klar over nedgravningen og dens placering, inden krigen sluttede, hvorfor Vadum sogneråd straks efter den 5. maj 1945 kunne træffe beslutning om at overføre ligene af de dræbte flyvere til indviet jord. Det skete
den 2. juni, hvor et ligtog med 6 kister førtes mod Vadum Kirke, hvorfra begravelsen fandt sted den følgende dag, søndag
den 3. juni. I følget, der talte ca. 3000 personer, sås bl.a. stiftamtmand J.A. Berner, politimester C.L. Bach, samt engelske officerer og danske modstandsfolk. Mange faner og talrige blomster sås på kirkegården, da sognepræst N. Møller foretog jordpåkastelsen." (FAF)
Pilot Officer (Air Bomber) Sidney Alexander Farquharson McHardy var fra Canada. (Kilde: CWGC) 7 flyvere.

HAL MZ826 crashed in a number of parts a few hundred m south west of Nørre Halne. The casualties were dug down by the Germans here - a little more to the south.
During a mine laying operation on 15 October, 1944 a Halifax crashed near Nørre Halne. 6 of the 7 members of the crew perished. The deceased were dug down by the Germans in an area with a strong military presence. The local citizens knew about the burial and where it was, before the war ended. This enabled the parish council of Vadum to decide just after 5 May, 1945, when Denmark was liberated, to transfer the bodies of the deceased airmen to consecrated soil. This happened on 2 June, when a funeral procession headed for Vadum Church, where the funeral was next day, Sunday 3 June.
Among the mourners of about 3000 people were prefect J.A. Berner, police commissioner C.L. Bach, British officers and Danish members of the resistance. Many flags and numerous flowers were seen in the churchyard, when vicar N. Møller officiated at the graveside. (Source: FAF)
Pilot Officer (Air Bomber) Sidney Alexander Farquharson McHardy was from Canada. (Source: CWGC)
His name is engraved on the Memorial Wall at the BC Museum of Canada. The Canadian Virtual War Memorial has this.
He is remembered on The Walls of Names at the International Bomber Command Centre, Phase 2, Panel 209.

See No. 10 Squadron RAF (Wikipedia) * RAF 10 Squadron Association * Halifax * Halifax Print *
Halifax-BC Museum.Canada * Halifax-RAF Museum * Halifax-The Yorkshire Air Museum * LAN-HAL *
Halifax III MZ826 ZA-M took off from RAF Melbourne at 21.17 hrs on 15 OCT 1944. (Source: Aircrew Remembered has this.) p383MACR 7 airmen.