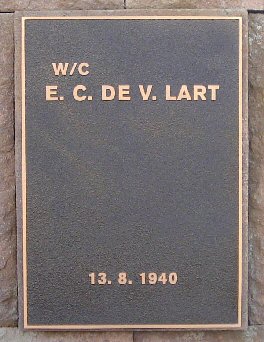 Edward Collis de Virac Lart Updated: 29 JAN 2022

Airman: a107007.htm Surname: de Virac Lart Init: E C Rank: WCdr Service: RAF Sqdn: 82
P_link: p022.htm Plane: BLE T1934 Operation: Attack DK Crash_site: Tranum Klit
Crash_d: d130840 Buried_d: b160840 C_link: c107.htm At_Next: Vadum

BLE T1934 tog del i angrebet på Aalborg, Fliegerhorst Aalborg West den 13. august 1940. Nedstyrtningsstedet er her. Google Map p014-024 (Kilde: Ole Rønnest)
Styrken blev ført af Wing Commander Lart. Han havde kort forinden med godt resultat ført et tilsvarende angreb mod en tysk flyveplads ved Leeuwarden i Holland. Han var kendt som en meget ambitiøs chef, krævende og personlig dristig. Efter manges opfattelse for dristig.
Ved passage af kysten forsvandt det hidtil beskyttende skydække. Alligevel besluttede Wing Commander Lart at fortsætte mod Aalborg i de to kilometers højde, som strækket fra over Nordsøen var fløjet i. Indflyvningen ved Søndervig var straks blevet observeret af en tysk luftmeldepost. (Detaljer udeladt her.)
Omtrent sammesteds styrtede Lart´s fly 9. T 1934 (her). Hverken han selv, Gillingham eller Beeby kom fri af flyet. Kun Gillingham blev om eftermiddagen identificeret af læge Christensen fra Brovst sygehus (her). (Find nummeret (1.-11.) i angrebet på - i tekst fra Skudt ned over Danmark)
Wing Commander (Pilot) Edward Collis de Virac Lart, 39 år, var søn af Charles Edmund og Amy Vincent Lart, United Kingdom. Hans bror John Floyer Vincent Lart faldt også. Hæderstegn: DSO, the Distinguished Service Order. (Kilde: CWGC)
Den 13. august 2013 blev 2 mindesten for de 6 flyvere nedstyrtet i Tranum Klit afsløret ved nedstyrtningsstederne.
Se TV2/Nord med Mindesten for flyvere, 2 min. udskriv talen på dansk.

Bombeflyet Bristol Blenheim. p022MACR
Se Tyske flyvepladser ved Aalborg. 3 flyvere.


BLE T1934 took part in the attack on Aalborg airfield, Fliegerhorst Aalborg West, on 13 August, 1940. The crash site is here. See also Google Map p014-024.
(Source: Ole Rønnest)

The squadron was commanded by Wing Commander Lart. Shortly before, he had successfully led a similar attack on a German airfield at Leeuwarden in the Netherlands. He was known as a very ambitious commander, demanding and daring. Some would say too daring.

After crossing the coast the protective cloud cover dispersed; nevertheless, Wing Commander Lart decided to proceed towards Aalborg at 2,000 metres, the height at
which the squadron had crossed the North Sea. The crossing at Søndervig was instantly registered by a German air observation post. (Details left out here.)

Almost at the same place Lart´s aircraft 9. T 1934 crashed (here). Neither he, Gillingham nor Beeby managed to get out. In the afternoon Gillingham, as the only one of
the three, was identified by Dr. Christensen from Brovst Hospital (here). (Find the number (1.-11.) in Attack on - in text from Shot down over Denmark)

Wing Commander (Pilot) Edward Collis de Virac Lart, 39, was the son of Charles Edmund and Amy Vincent Lart, United Kingdom.
His brother John Floyer Vincent Lart also fell. Awards: DSO, the Distinguished Service Order. (Source: CWGC)
He is remembered on The Walls of Names at the International Bomber Command Centre, Phase 2, Panel 196.

See No. 82 Squadron RAF - Wikipedia * 82 Squadron Blenheims, Watton, 1940 * Bristol Blenheim *

German airfields near Aalborg.


Aircraft Restoration Company, Duxford - Bristol Blenheim * Blenheim L6739 -- Rolled Out. Photo: RAF Memorial, Watton by Ole Rønnest
The reconstructed R3821 that visited Aalborg in 2000 due to efforts by Ole Rønnest.

Blenheim IV T1934 UX- took off from RAF Watton at 08:40 on 13 AUG 1940. (Source: Aircrew Remembered has this.) Bristol Blenheim * p022MACR 3 airmen.