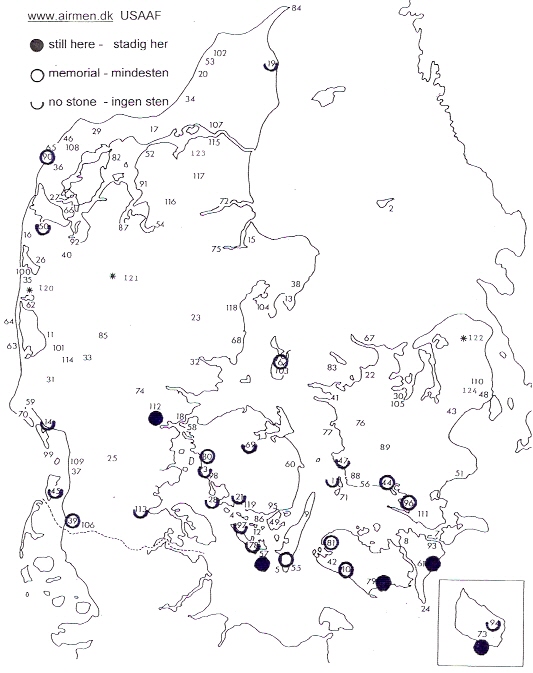 American Airmen - USAAF Airmen 1946
Amerikanske flyvere - USAAF Flyvere 1946
05 OCT 2021


Her 91 fly: 69 B-17, 12 P-51, 9 B-24 og 1 P-47 med 804 flyvere.
Flyvere: 5 i DK, 133 taget hjem, 87 i andre lande, 202 ingen kendt grav,
269 fanget, 20 returneret til UK, 38 sejlet til UK, 50 til Sverige.
133 navne i alfabetisk orden*133 navne sorteret efter fly
I maj 1948 blev 133 faldne amerikanske flyvere ført ud af Danmark for,
som det hed sig, at blive begravet i USA. Mere om tallet.
Anders Bjørnvad fik under besøg i 1979 bekræftet, at de alle i første
omgang blev ført til kirkegården 20 km sydvest for Liege i Belgien
Ardennes American Cemetery. 133 amerikanske flyvere efter 1948.
33 af dem hviler stadig der, heraf 27 i række B 39, Denmark Row.
5 USAAF flyvere hviler fortsat i Danmark, hvor graven bliver passet af
sognet med blomster og dekorationer. Liget er taget bort alle andre
steder, men stenen er blevet stående en del steder, nu som mindesten,
og der pyntes året rundt, som var det stadig en rigtig grav! Se Højer.
Se nederst i engelsk version om 9 amerikanere dræbt i RCAF.



Here 91 planes:69 B-17,12 P-51,9 B-24 and 1 P-47 with 804 airmen.
Airmen:5 in DK,133 taken home,87 in other countries,202 no known grave,
269 POWs, 20 returned to the UK, 38 EVD to the UK, 50 EVD to Sweden.
133 names in alphabetical order * 133 names by planes
In May 1948 133 fallen American airmen were taken out of Denmark
to be buried in the USA, it was said. More about the number.
It was confirmed to Anders Bjørnvad during a visit in 1979 that they all in
the first place were taken to ARD 12 miles SW of Liege in Belgium:
Ardennes American Cemetery. The 133 American airmen after 1948.
33 of them still rest there, 27 of them in row B 39, Denmark Row.
5 USAAF airmen still rest in Denmark, where the grave is kept by the
parish with flowers and decorations. The body has been taken away all
other places, but the stone is still there a number of places, now as a
memorial stone, and it is kept and decorated, as if it still were a real
grave! See Højer.
See 449 Americans Killed Serving in Bomber Command, see 9 of them
on www.airmen.dk. 4 of them, R.H. Galipeau, D.A. Ivers, A.T. Kelley and
R.J. Dillon still rest in Denmark. 5 have no known grave: E.R. Carjaval,
Connor, Lewis, MacArthur and McCoy! Memorial Wall at the BC Museum.
They Shall Grow Not Old published 1992 by the CATP Museum,
Canada has short biographies of over 18,000 from the RCAF.
The title is from Ode of Remembrance by Laurence Binyon, 1914.