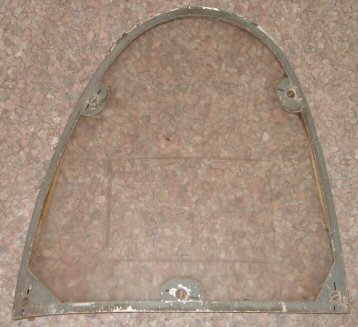 MUS KH446 tog del i angrebet på Gestapos hovedkvarter i København den 21. marts 1945.
Se links om Shellhuset, også RAF mindetavle. Se Fotos og Google Map Shellhuset.
Se også Kort over angrebet på Shellhuset fra Derek Carter.

MUS KH446 blev ramt af flak under angrebet. Piloten var nødt til at nødlande omkring her ved Lønborg
på vejen tilbage. Det var mindre end 1 km fra en tysk observationspost på Sortehøj her, så han blev
hurtigt taget til fange. (Kilde: AOD)
Det var her. (Kilde: Tegning fra 1945, s. 7, "Nødlanding i Lønborg Enge" Egvad Egnshistoriske Samling.)
En landmand sikrede sig dette fra cockpittet. Det blev mange år senere givet til Derek Carter.
Se P-51 Mustang - Fotos * p416MACR. 1 flyver.

MUS KH446 took part in the attack on the Gestapo HQ in Copenhagen on 21 March, 1945.
See links about the Shell Building, also RAF memorial tablet.
See Photos and Google Map Shell House. No. 64 Squadron RAF-Wikipedia.
See also Map of the air raid on the Shell House from Derek Carter. See p416MACR.
MUS KH446 was hit by flak during the attack. The pilot had to make a crash landing about here at Lønborg on the return flight. It was less than 1 km from a German observation post at Sortehøj here,
so he soon became a POW. (Source: AOD)
It was here. (Source: Drawing from 1945, p. 7 in a publication from Egvad Egnshistoriske Samling.)

A farmer took this from the cockpit. Many years later it was given to Derek Carter.

See P-51 Mustang - Photos. This Mustang from No. 64 Squadron RAF took off from RAF Fersfield. 1 airman.