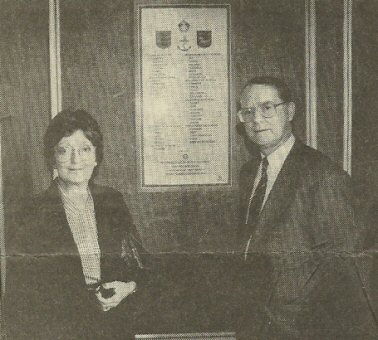 Newspaper cutting from Anders Lund taken from Horsens Folkeblad in April 1994:

Ambassador John Burgess and Mrs. Burgess in the old Town Hall at the cross stitch embroidery
with the names of 47 airmen who fell down near Horsens during the war. (Photo: Lars Jul)
Care for the fallen
HORSENS - The Australian Ambassador to Denmark John Burgess and Mrs. Burgess yesterday
visited Horsens.
They had been invited to Horsens by grocer Ole Kraul who is the historian behind the shooting
down of Allied planes near Horsens during World War 2.
First John Burgess and Mrs. Burgess visited the old Town Hall to see the beautiful embroidery made
by Mrs. Emilie Henriksen with all of the names of the 47 perished airmen. About half of them were
from Australia. A similar embroidery is placed in the RAF church in London, St. Clement Danes.
(See Danish WW2 memorials)
Later the Ambassador and his wife had a small lunch in the new Town Hall where the leader of the Municipal administration Ove Have Jørgensen briefed them. Here the Ambassador mentioned that his embassy issues about 10,000 visas a year to Danes who visit his country. Only a small part of them are emigrants.
In the Town Hall he received a present from the town and in his short speech of thanks he said that he will return next year to attend the memorial ceremonies to the airmen who crashed near Horsens.
Yesterday Ole Kraul accompanied the Ambassador and his wife - first to the memorial stone near Aale to the perished crew members from a Lancaster (LAN ME663)
that crashed here in the night between 9 and 10 April 50 years ago. Here they met Mrs. Bodil Mikkelsen who cherishes the memorial site.
Celia and John Burgess were deeply moved and expressed their gratitude for what is being done here to commemorate their fallen compatriots.
The party went on to Vestbirk where they met Anna and Anton Mikkelsen who tend a memorial stone here (to the crew of LAN W4330).
From there they went to the site where a bomber crashed in the night between 20 and 21 April 1943 (A memorial to the crew of STI BF506 crashed at Bøgballe). (PN)