Lancaster BI ME663 - Aale - Monument Updated: 30 MAY 2010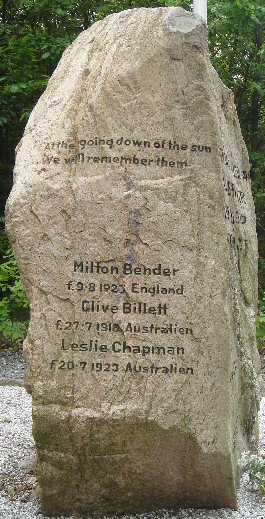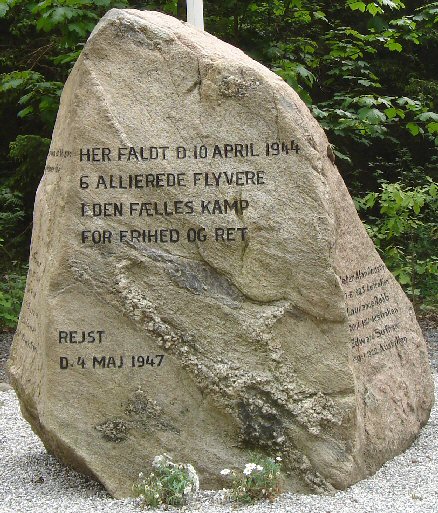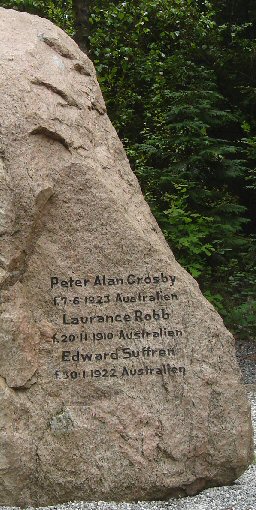 Monument for 6 flyvere fra LAN ME663 rejst 4. maj 1947 ved nedstyrtningsstedet her mellem Aale og Mattrup ved Mattrupvej 17, 7160 Tørring. Zoom.
Rejst af beboere i Aale. På særlige mindedage hejses det australske, det engelske og det danske flag og der lægges blomster og kranse.
Fru Emilie Henriksen, der hjalp Stanley Hodge, skrev til ham efter krigen - og dermed startede en korrespondance med de dræbte flyveres familier,
der fortsatte i det meste af en menneskealder. Se mere Stanley Hodge, Peter Crosby og Milton Bender. (Kilde: FAF) Se 47 navne i St. Clement Danes.



"Here fell on 10 April, 1944 6 allied airmen in the common battle for freedom and justice."
Monument to 6 airmen from LAN ME663 erected 4 May, 1947 at the crash site here between Aale and Mattrup at Mattrupvej 17, DK-7160 Tørring. Zoom.
Erected by residents of Aale. The Australian, the British and the Danish flags are flown on special memorial days and flowers and wreaths are laid.
Mrs. Emilie Henriksen, who helped Stanley Hodge, wrote to him after the war - and with that a correspondance started with families of the deceased
airmen lasting for most of a generation. See more at Stanley Hodge, Peter Crosby and Milton Bender. (Source: FAF) See 47 names in St. Clement Danes.