Lancaster I W4330 - Vestbirk - Monument Photo: AS 15 MAY 2008 Updated: 22 DEC 2017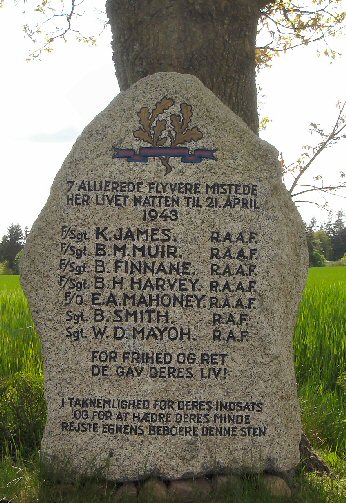 Monument for besætningen på LAN W4330 lige her under træet
omkring 200 m nordvest for Birknæsvej 3, 8752 Østbirk.

Mindestenen blev afsløret 21. april 1951 i overværelse af bl.a.
Mr. og Mrs. Mayoh fra England, hvis søn Sergeant Mayoh
var blandt de omkomne. (Kilde: KM)

Se gammelt foto af mindestenen.

Se også De værner om fortiden - Horsens Folkeblad den 30. april 1996.

Monument to the crew of LAN W4330 right here under the tree
about 200 m north west of Birknæsvej 3, DK-8752 Østbirk.
This memorial stone was unveiled 21 April, 1951 in the presence of
among others Mr. and Mrs. Mayoh from England, whose son
Sgt Mayoh was among the perished airmen. (Source: KM)
7 allied airmen here lost their lives on the night before 21 April 1943.
For freedom and right
they gave their lives.

In gratitude for their effort
and to honour their memory
residents of the area erected this stone.
See an old photo of the memorial stone.
See also They cherish the past - Horsens Folkeblad on 30 April 1996.