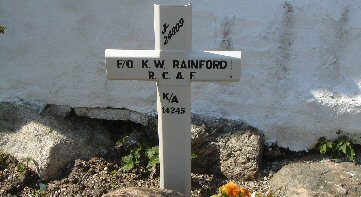 Keith Willard Rainford Updated: 17 MAR 2021
Airman: a043001.htm Surname: Rainford Init: K W Rank: F/O Service: RCAF Sqdn: 429
P_link: p395.htm Plane: HAL MZ865 Operation: Minelaying Crash_site: Sea S of Sweden
Crash_d: d140245 Buried_d: b310545 C_link: c043.htm At_Next: Karlslunde

Natten mellem den 14. og 15. februar 1945 bombede 717 RAF bombefly Chemnitz, mens 30
Lancasters og 24 Halifaxes minerede i Kadetrenden omkring her. Den forholdsvis lille mineringsstyrke blev hurtigt opdaget af tysk radar, og JU88´ere skød 5 Halifaxes og 1 Lancaster ned. Voldsom luftkamp over Falsterbo og flere nedskudte bombefly blev observeret. HAL MZ865 styrtede i havet her NV for Falsterbo den 14. februar 1945 omkring kl. 21.00. I løbet af foråret og sommeren 1945
blev 6 omkomne besætningsmedlemmer fundet. (Kilde: FT 88-42-40) Se Minelægningsområder ved Sweetpeas og p395MACR.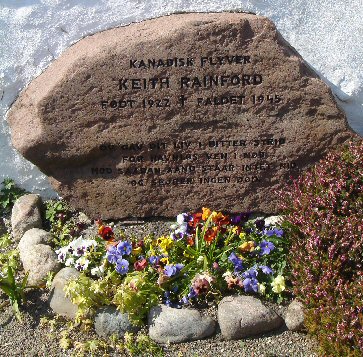 103 dage efter styrtet bliver et lig skyllet ind på Karlslunde Strand, omkring her. Det er 60 km fra
Falsterbo fyrtårn. Anne-Lisa Pedersen, 12 år, ser liget dobbelt så stort som normalt, og med en skaldet isse. Jørgen Andersen bliver opmærksom på ringen på mandens finger. Den er udsmykket med et ahornblad magen til det, der pryder det canadiske flag. Han er i uniform og på armen bærer han et militærur. Han bliver snart af danske myndigheder identificeret som Keith W. Rainford.
3 dage senere, 31. maj 1945, er Karlslunde Kirke fyldt til bristepunktet med borgere, der vil vise den
unge canadier deres respekt og takke ham for den indsats, der var med til at sætte en stopper for
anden verdenskrig, men endte med at koste ham livet. I taknemmelighed skrev de på gravstenen
Kanadisk flyver KEITH RAINFORD født 1922 faldet 1945
Du gav dit liv i bitter strid
for navnløs ven i nød
mod sådan ånd står intet nid
og sejrer ingen død

(Kilde: Dagbladet Roskilde 31. maj 2008, avisklip fra Louis Hansen)

Se Keith Willard Rainford fra Canada til Karlslunde * Poems * Gravsten for hans familie

Flying Officer (Wireless Operator / Air Gunner) Keith Willard Rainford var fra Canada. (Kilde: CWGC)
Se gravsten for flyverens familie.
Hele besætningen på 7 mand omkom. 4 blev begravet i Sverige, 1 på Magleby Kirkegaard på Langeland,
1 på Karlslunde Kirkegaard og 1 har ingen kendt grav.


717 RAF bombers bombed Chemnitz on the night between 14 and 15 February 1945, while 30 Lancasters and 24 Halifaxes mined the Kadet Channel about here.
The rather small formation for mining was quickly spotted by German radar and JU88´s shot down 5 Halifaxes and 1 Lancaster. There was a heavy aerial battle over Falsterbo and it was observed that several bombers were shot down. HAL MZ865 ditched in the sea here northwest of Falsterbo on 14 February 1945 about 21:00.
6 perished crew members were found during the spring and the summer of 1945. (Source: FT 88-42-40) See Minelaying areas at Sweetpeas and p395MACR.
103 days after the crash a dead body is washed ashore on Karlslunde Strand about here. It is 60 km from the Falsterbo Lighthouse. Anne-Lisa Pedersen, 12, sees that the body is twice normal size and with a bald top of the head. Jørgen Andersen notices the ring on his finger. It is decorated with a maple leaf like the one on the flag of Canada. He wears a uniform and a military wristwatch. Soon Danish authorities identify him as Keith W. Rainford.
On 31 May, 3 days later, Karlslunde Church was crowded to bursting point with citizens who wanted to pay their last respects to the young Canadian and thank him for his efforts that helped put an end to World War II - but turned out to cost him his life. In gratitude they wrote on his gravestone (translated by KK):
Canadian airman KEITH RAINFORD born 1922 fallen 1945
You gave your life in bitter fray
to help a nameless friend.
To Harm this spirit won´t give way,
to Death it will not bend.
"J-24809 F/O K.W. Rainford, R.C.A.F. K/A 14.2.45" (Text on the original metal cross, never replaced with a headstone)
See Keith Willard Rainford from Canada to Karlslunde * Poems to Keith Willard Rainford * Gravestone to the airman´s family
Flying Officer (Wireless Operator / Air Gunner) Keith Willard Rainford was from Canada. (Source: CWGC)
His name is engraved on the Memorial Wall at the BC Museum of Canada. The Canadian Virtual War Memorial has this.
He is remembered on The Walls of Names at the International Bomber Command Centre, Phase 2, Panel 229. See Miscellaneous Information.

All of the crew of 7 perished. 4 airmen were buried in Sweden, 1 in Magleby, Langeland, 1 in Karlslunde and 1 has no known grave.
See No. 6 Group and the Canadian Squadrons*No. 429 (Bison) Squadron)*429 sqn RCAF Research*429 Squadron RCAF Association*429 Transport Squadron
Halifax-Wikipedia*Halifax Print*Halifax-BC Museum.Canada * Halifax-RAF Museum * Halifax-The Yorkshire Air Museum * Halifax Mk III at YAM 2019*LAN-HAL.
Halifax III MZ865 AL-V took off from RAF Leeming at 18.03 hrs on 14 FEB 1945. (Source: Aircrew Remembered has this.) See p395MACR. 7 airmen.