Keith Willard Rainford from Canada to Karlslunde Photo from "Den canadiske flyver" by Hans Henrik Bertram Larsen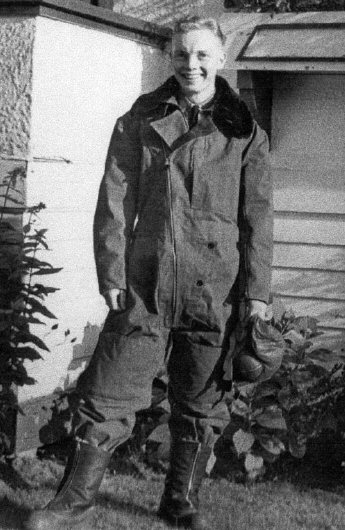 Updated: 20 MAY 2009

The airman Keith Willard Rainford was reported Missing in Action after 15 February 1945.

In 2008 the parochial church council of Karlslunde Church edited "Den canadiske flyver" (The Canadian Airman)
by Hans Henrik Bertram Larsen. Now www.airmen.dk is able to tell parts of the booklet.
Two newspaper cuttings from 1945 tell about the airman´s destiny seen from Vancouver, Canada:
<![if !vml]>
<![endif]>
MISSING — Flying Officer Keith Willard Rainford, son of' Mr. and Mrs. George Rainford,
3436 West, Thirtyninth, is missing following air operations overseas on February 15.
Born in Winnipeg and educated at Lord Byng High School here, FO. Rainford was a
member of the 31st and 25th Boy Scout troops and of St. Phillip's Church.
He was employed at the Dominion Bank before joining the R.C.A.F. in November, 1941,
and went overseas a year ago. A wireless air gunner, he was on his
sixteenth operational flight when reported missing.
A sister, Shirley, works for the British Purchasing Commission in Washington, D.C.

FO. K. W. Rainford Buried in Denmark
FO. Keith Willard Rainford, 22, only son of Mr. and Mrs. George Rainford, 3436 West Thirtyninth,' listed missing following mine laying operations near Denmark Feb. 15, is now reported killed on that date. His body was recovered from the sea on May 28 and he was buried in a Churchyard at Karlslunde, Denmark, May 31.
Overseas three years, he has done 15 operational flights before his last trip. He was employed at the Dominion Bank until enlistment. Besides his parents, he is survived by one sister, Shirley, now in Washington D.C.
Clements Sørensen, vicar at the Danish Church in Vancouver 1935-45 in December 1945 wrote about his visit to Karlslunde:
"In the vicarage everything was ready with photos and newspaper reports from the funeral, just waiting for some day when they knew who the unknown soldier´s parents were. Now everything has been sent to his father and mother.
There were fresh flowers on the grave the day we came. The bellringer´s wife, who kept the grave so beautifully, said that people never came to the churchyard with flowers for their loved ones without also laying a bunch of flowers on the Canadian´s grave. At his death a number of kids in Vancouver lost a beloved Sunday school teacher."
Many letters were sent between the Rainfords in Canada and persons in Karlslunde. Mrs. Carla Pedersen, the wife of bellringer and gravedigger Karl Pedersen, wrote this:

Mrs. Marie Rainford:
I thank you for the Christmas Greetings. I am very glad to hear from you. I can understand your great sorrow to lose a dear Son and in a strange Land, but you can truly depend on it that his Grave will be kept fine as long as my Husband and I tend the Church Cemetry.
I have myself lost a brother in a strange Land in this War. I believe in Japan, we do riot know for sure as yet, he was sailing between Japan and America on regular service. He was 30 years old and I often think of him when I fix your Son´s Grave.
I am sending here a verse which was laid on his Grave a couple of days after the Funeral. I do not know from whom, a day it was raining and was nearly washed off but I copied it so you could have it, unless you have already received it from Mrs. Mikkelsen. (Text, see Poems to Keith Willard Rainford)
I send this with many Dear Greetings,
Mrs. Carla Pedersen, "Mindely", Karlslunde pr Taastrup, Denmark. (See also about Mrs. Nathalia Mortensen in Marstal, who tended Jack E. Wagner´s grave.)
Keith W. Rainford´s parents George Rainford and Marie Rainford visited Karlslunde in 1966. Every day they went to Karlslunde Churchyard.
Urns with the ashes of the parents and Keith W. Rainford´s sister Shirley Kathrine Rainford-Bristol were interred here many years later. See their gravestone.
On Saturday 18 July 1998 the Rainfords attended the memorial service. 3 of Keith Rainford´s nephews, their wives and 8 children had come. The parochial church council had invited the congregation and people who had attended the funeral in 1945. Vicar Kirsten Senbergs was in charge of the memorial ceremony.
Dagbladet Roskilde told this about the memorial service:
"In May 1945 Keith Rainford, a Canadian airman in the Royal Air Force perished during World War II, drifted ashore in Karlslunde, where he was buried. His father, mother and sister wished to be buried in the same plot. On the occasion there was a memorial ceremony in Karlslunde Church.
Greg H. Bristol, the son of Shirley Kathrine Rainford-Bristol and the nephew of Keith Rainford spoke on behalf of the family at the ceremony in the church, when the ashes of his mother and her parents were interred in Karlslunde. This is what Dagbladet Roskilde wrote on Monday 20 July 1998, translated by KK:

"In the early 1980´s when my grandparents were about 80, they asked my mother to take their ashes to Denmark. But my mother couldn´t cope with it. So she asked me to take their ashes and hers to Denmark when she had passed away", told Greg H. Bristol.
At the ceremony which was carried out in Danish and English, Greg H. Bristol told about his family. Of his grandfather, who had Danish ancestors on Møn and who fought in the Canadian army during the First World War. Of the depression in the late 1920´s and about the entry into the Canadian army of his uncle Keith Rainford, when he was twenty years old. He told about letters from Keith Rainford to his family, among them Georg Sorensen Rainford, who was proud of his son´s entry into the Canadian army. In February the family were told that "uncle Keith was missing", and later came the message that he had been buried on 31 May 1945 in Karlslunde, where among others local people from the resistance movement took part in the burial. Among the many persons present at the funeral then, shortly after the Liberation, was also Carla Petersen. Carla Petersen, who is now 88 years old, was married to the then sexton. Carla Petersen had been invited to the ceremony by the vestry.
In addition to Greg H. Bristol his wife, his two brothers, and the children of his three brothers, all residents of the USA, were present at the memorial ceremony. Several had come in order to pay the last honours to one of those who died for the allied powers.
In the church vicar Kirsten Senbergs read lessons from the New Testament, and three hymns were sung, which were all printed in English and Danish, as were the passages from the Bible.
Everybody went together to the airman´s grave where the ashes of the three departed members of his family were laid into the grave. The Lord´s Prayer was said, and like in 1945 also "Altid frejdig når du går" (=Always dauntless when you walk) was sung. Several of the congregation went up to the grave and put flowers on the covered grave.
After that the vestry hosted a lunch. Here the citizens of Karlslunde got the opportunity to tell the Americans of the discovery of the airman Keith Rainford in 1945 and the burial a short time afterwards. All in all this was a day when the participants strongly felt the course of history."