Mindelunden i Ryvangen

Ryvangen Memorial Park Updated: 02 OCT 2022
1*1a*2*e*2a*2b*3*3-1*3-2*3-3*4*4PLAN*4a*4b*4c Hvidsten*5*PLAN*5-2*5a*5b*5b-3 Flammen*5c*5c-3 Simonsen*6*6a*6b Collin*7*8*8a*8b*8c
Google Map RYVANGEN

9Pistolskydebanen*10Sten*Udgang*12 Krigssejlere*13Soldater

9Pistol Range*10Stone*Exit*12 Seamen*13Soldiers

Kort*1 Hovedindgang*2 Mindemur*3 Monument*4 Mindetavle*5 Det store Gravfelt*6 Gravlund for KZ-fanger*7 Mindesmærke for KZ-ofre*8 Henrettelsesplads


Map*1 Main entrance* 2 Memorial Wall* 3 Monument* 4 Plaque* 5 The big Plot * 6 From Concentration Camps* 7 To KZ Victims* 8 The Place of Execution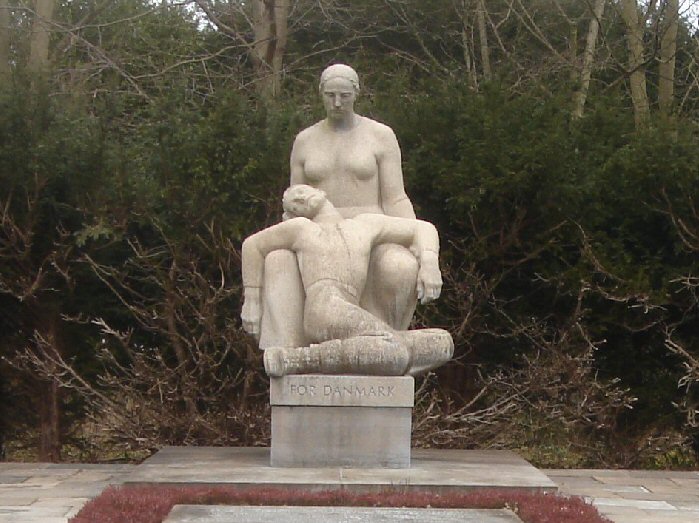 Foto: Anders Straarup 24 FEB 2016.
Monument her af Axel Poulsen afsløret
5 MAJ 1950 ved indvielsen af Mindelunden.
FOR DANMARK Se mere i 2022.
Den fulde inskription af Kaj Munk:
Drenge, I drenge som døde,
I tændte for Danmark i dybeste mulm
en lysende morgenrøde.
Drenge, I Drenge som døde - baggrund

Kranse lægges her for at ære alle døde
nævnt i Mindelunden, sådan som
Opofrelsens kors bruges andre steder.

Se også Monument i Randers.

Photo: Anders Straarup 24 FEB 2016.
Monument here by Axel Poulsen unveiled
on 5 MAY 1950 at the consecration of the memorial park.
FOR DENMARK See more in 2022.
The full inscription by Kaj Munk:
Lads, you lads who died,
You lit for Denmark
In her darkest gloom
A brightening dawn.

Wreaths are laid here to honour all of the
dead mentioned in the memorial park,
just like The Cross of Sacrifice is used
in other places.
See also Monument in Randers.