Mindelunden i Ryvangen

Ryvangen Memorial Park Updated: 29 JUN 2020
1*1a*2*e*2a*2b*3*3-1*3-2*3-3*4*4PLAN*4a*4b*4c Hvidsten*5*PLAN*5-2*5a*5b*5b-3 Flammen*5c*5c-3 Simonsen*6*6a*6b Collin*7*8*8a*8b*8c
Google Map RYVANGEN

9Pistolskydebanen*10Sten*Udgang*12 Krigssejlere*13Soldater

9Pistol Range*10Stone*Exit*12 Seamen*13Soldiers

Kort*1 Hovedindgang*2 Mindemur*3 Monument*4 Mindetavle*5 Det store Gravfelt*6 Gravlund for KZ-fanger*7 Mindesmærke for KZ-ofre*8 Henrettelsesplads


Map*1 Main entrance* 2 Memorial Wall* 3 Monument* 4 Plaque* 5 The big Plot * 6 From Concentration Camps* 7 To KZ Victims* 8 The Place of Execution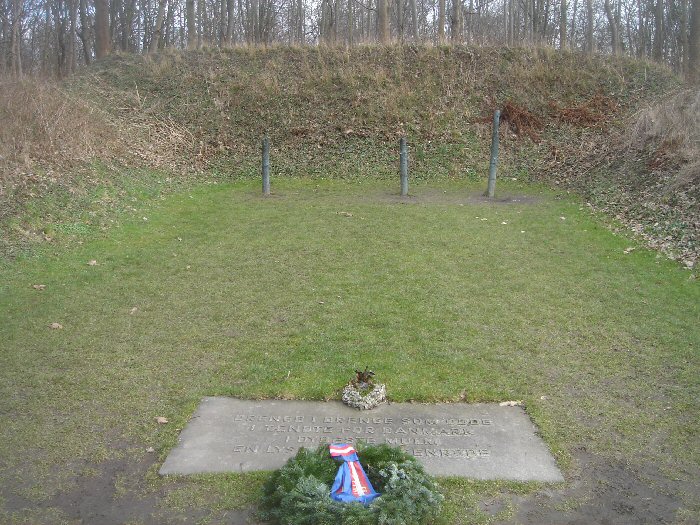 Foto: Anders Straarup 24 FEB 2016.

Henrettelsespladsen her.
Mindelunden Ryvangen har dette.

De 3 pæle af træ er erstattet af kopier støbt i bronze. Se de originale pæle i Randers i 2019.
De blev brugt til de fleste af de
93 henrettelser af danskere i Ryvangen. Se
112 henrettede mænd, sorteret på 9 måder.
De 112 er inklusive de 11 navne fra
Massakren ved Osted - se Mindesten.

De første henrettelser i dette område
var på Pistolskydebanen her.

Se Drenge, I drenge som døde - baggrund

Photo: Anders Straarup 24 FEB 2016.
The place of execution here.
Mindelunden Ryvangen has this.
The 3 wooden poles were replaced by replicas
in bronze. See original poles in Randers 2019.
They were used for most of the
93 executions of Danes in Ryvangen. See
112 executed men, sorted out in 9 ways.
The 112 include the 11 names from Osted.

The first executions in this area were on
the Pistol Range here.