Mindelunden i Ryvangen

Ryvangen Memorial Park Updated: 04 NOV 2019
1*1a*2*e*2a*2b*3*3-1*3-2*3-3*4*4PLAN*4a*4b*4c Hvidsten*5*PLAN*5-2*5a*5b*5b-3 Flammen*5c*5c-3 Simonsen*6*6a*6b Collin*7*8*8a*8b*8c
Google Map RYVANGEN

9Pistolskydebanen*10Sten*Udgang*12 Krigssejlere*13Soldater

9Pistol Range*10Stone*Exit*12 Seamen*13Soldiers

Kort*1 Hovedindgang*2 Mindemur*3 Monument*4 Mindetavle*5 Det store Gravfelt*6 Gravlund for KZ-fanger*7 Mindesmærke for KZ-ofre*8 Henrettelsesplads


Map*1 Main entrance* 2 Memorial Wall* 3 Monument* 4 Plaque* 5 The big Plot * 6 From Concentration Camps* 7 To KZ Victims* 8 The Place of Execution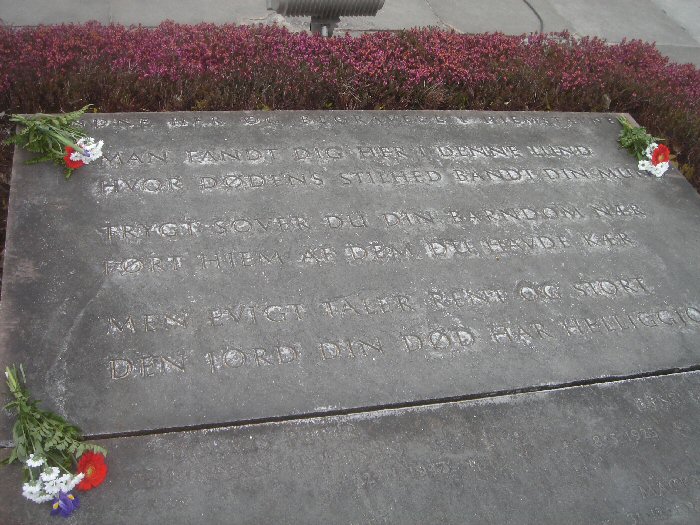 Foto: Anders Straarup 4. maj 2017.

Om "Fundne her og begravet i hjemstavnen"
skrev Halfdan Rasmussen:

Man fandt dig her i denne lund
hvor dødens stilhed bandt din mund
trygt sover du din barndom nær
ført hjem af dem du havde kær
men evigt taler rent og stort
den jord din død har helliggjort

Se mere om Den store Mindetavle.

Photo: Anders Straarup 4 May 2017.

Halfdan Rasmussen wrote about
"Found here and buried in their native soil":

You were found in this grove
where the silence of death bound your voice
you sleep peacefully
near your childhood home
taken home by your loved ones
but the soil hallowed by your death
will speak purely and clearly forever

Translated by KK

See more about The Commemoration Plaque.