Løgstør Hospital Photo from K.B. Andersen Updated: 29 JAN 2018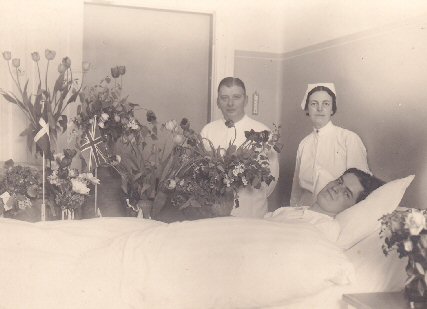 Pilot Officer Peter J.W. Bell (Pilot) fra MUS KH860, måske 5. maj 1945
med overlæge Arnold Christensen og sygeplejerske Johanne Pedersen.
(Kilde: Finn Jensen, Løgstør Lokalarkiv)
"Bell blev bragt til hospitalet i Løgstør (dengang her) og i de efterfølgende
befrielsesdage strømmede folk til hospitalet med blomster og gaver.
Den 15. maj var Bell tilbage i England." (FT 89-74-47)

Pilot Officer Peter J.W. Bell (Pilot) from MUS KH860, maybe on 5 May 1945
with consultant Arnold Christensen and nurse Johanne Pedersen.
"Bell was taken to the hospital in Løgstør (then here). People crowded to
the hospital with flowers and presents in the days following the liberation.
On 15 May Bell was back in England." (FT 89-74-47)


Mange danske læger og sygeplejersker hjalp allierede flyvere med medicinsk behandling - og mere end det!
Morice flygtede selv. Tadeusz Mecznik blev hjulpet fra sygehuset i Ringsted via København til Sverige. En læge sørgede for den første del af turen.
På sygehuset i Horsens blev læger og sygeplejersker hindret i at behandle Charles Edward Suffren. En af lægerne var lige ved at blive straffet!
Besætningsmedlemer fra B17 42-31561 fik behandling i Løgumkloster og Tønder trods tyske forsøg på at forsinke arbejdet. Se Den lange version.
Leslie Flower blev hjulpet til Lemvig Sygehus og videre til Herning af læger, der også behandlede hans alvorlige brandsår. Han nåede Sverige!
Aage Astrup og McDougall behandlede 3 amerikanske flyvere på Nakskov Sygehus, se artikler og links ved B17 42-32070. Se også Anton Rask.
Tyskerne gengældte stikkerlikvideringer med Clearingmord på danskere, se også Clearingmord på danske læger 1944-45 af S. Riber Kristensen.
Se også Andreas C. Johannsen: Danske læger under nazismen og Da danske læger fik blod på hænderne.

Many Danish doctors and nurses helped allied airmen with medical treatment – and more than that!
Morice escaped.Tadeusz Mecznik was helped to go from the hospital in Ringsted via Copenhagen to Sweden. A doctor was in charge of the first part of his journey.
In the hospital in Horsens doctors and nurses were prevented from treating Charles Edward Suffren. One of the doctors was very close to being punished!
Crew members from B17 42-31561 got medical treatment in Løgumkloster and Tønder in spite of German attempts to delay the work. See the long version.
Leslie Flower was taken to Lemvig Hospital and on to Herning by doctors who also treated his severe burns. He reached Sweden!
Aage Astrup and McDougall treated 3 American airmen at Nakskov Hospital, see articles and links at B17 42-32070. See also Anton Rask.