Colin Frederick Chambers Family Training Groups Planes Gallery Full story by his son Michael*12 MAY 2021*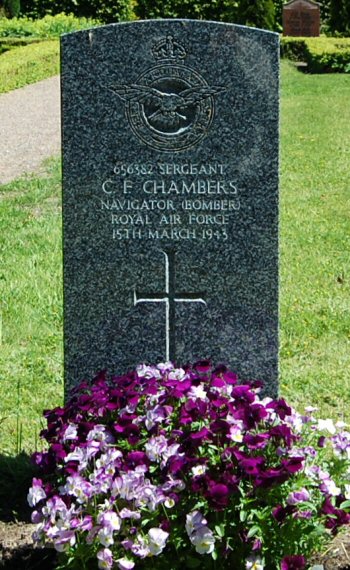 16 JUN 2010:K.Hagman
Airman: e222013.htm Surname: Chambers Init: C F Rank: Sgt Service: RAF Sqdn: 138
P_link: p143.htm Plane: HAL DT620 Operation: SOE to PL Crash_site: Off Store Heddinge
Crash_d: d140343 Buried_d: e222j C_link: e222j.htm At_Next: Fjelie, S

"Under en SOE-flyvning til Polen med våbenforsyninger blev Halifax DT620 skudt ned over Stevns.
Flyet nedstyrtede den 14. marts 1943 kl. 21.45 på 7-8 m vand ved Harvig. Alle ombordværende blev
dræbt." (FAF) Se Google Map p143 HAL DT620. Zoom. SDFE-kort HAL DT620. FLUKO - tysk kort.
Overblik over besætningen. Flyvehistorisk Tidsskrift skriver.
Se 5 sider om Halifax II DT620 skudt ned over Østersøen ud for Stevns 14/3-1943.
Sergeant (Navigator / Bomber) Colin Frederick Chambers var fra United Kingdom.
Han blev begravet på FJELIE CEMETERY i Sverige, indgang her. Position i Google Maps.dk.
(Kilde: CWGC) Se foto af kirkegården.
Se foto af Fjelie kyrka og billede i korssting til minde om Colin Frederick Chambers.
Se også fotos fra Halifax Memorial Day 5 September 2012.
Fra HAL DT620 blev 5 flyvere begravet på Bispebjerg og 1 i Sverige, mens 1 har ingen kendt grav.



"Halifax DT620 was shot down over Stevns on an SOE-operation to Poland with supplies of weapons.
The plane ditched on 14 March 1943 at 21:45 in the sea at Harvig at a depth of 7-8 m. All on board were killed." (FAF) See Google Map p143 HAL DT620. Zoom. SDFE-map HAL DT620. Overview of the crew.
(Danish) Aviation Historical Review writes.
See 5 pages about Halifax II DT620 shot down over the Baltic Sea off Stevns on 14 March 1943.
"Sgt Chambers is buried in Fjelie, Sweden. His body was found washed ashore at Villa Hage in Bjärred between Malmø and Landskrona, 4th May 1943-20:30 hrs. He was found tangled in his parachute ropes, without the parachute. At night the body was guarded by the local military barracks. Next morning it
was examined by the local Police and put in a coffin and driven to the local chapel in Fjelie. Chambers
was buried in Fjelie churchyard 26 May 1943 with full military honours. The Army chaplain E. Eberhard
carried out the funeral ceremonies." (Text from photos of Sgt Mairs and documents about the plane)
See photo of Villa Haga right here. Chambers must have been washed ashore about here, overview here.

Sergeant (Navigator / Bomber) Colin Frederick Chambers was from the United Kingdom.
He is remembered on The Walls of Names at the International Bomber Command Centre, P 2, P 142.
He was buried in FJELIE CEMETERY in Sweden, entrance here. Position on Google Maps.dk.
(Source: CWGC) See the cemetery.
See photo of Fjelie Church and a cross stitch embroidery in memory of Colin Frederich Chambers.
On 4 SEP 2012 Radio Sweden had an interview with Krister Hagman - Who is planting flowers?
and on 5 SEP 2012 an interview with Michael Chambers RAF airman was flying secret missions
On 11 SEP 2012 De smyckar engelske flygarens grav (Bengt Ekström and his wife. After a visit to France
in 1994 he learned about the grave in Fjelie. "We drove there and saw that the headstone was beautiful, but
there were no flowers. From 1995 we began putting flowers there three or four times a year. We think we
owe a debt to the Englishmen who rescued the democracies of Western Europe from nazism,"
Bengt Ekström said.) See also photos from Halifax Memorial Day 5 September 2012.
5 airmen from HAL DT620 were buried in Bispebjerg and 1 in Sweden, while 1 has no known grave.
See p143MACR about this crew and FLUKO - German map. See Halifax Print * Halifax - Bless 'Em All
Lancaster+Halifax * Tempsford Special Duties Squadrons * Special Operations Executive
35 Airmen shot down over Denmark on SOE Missions to Poland * No. 138 Squadron * RAF Tempsford
Roll of Honour, Tempsford 7 airmen.