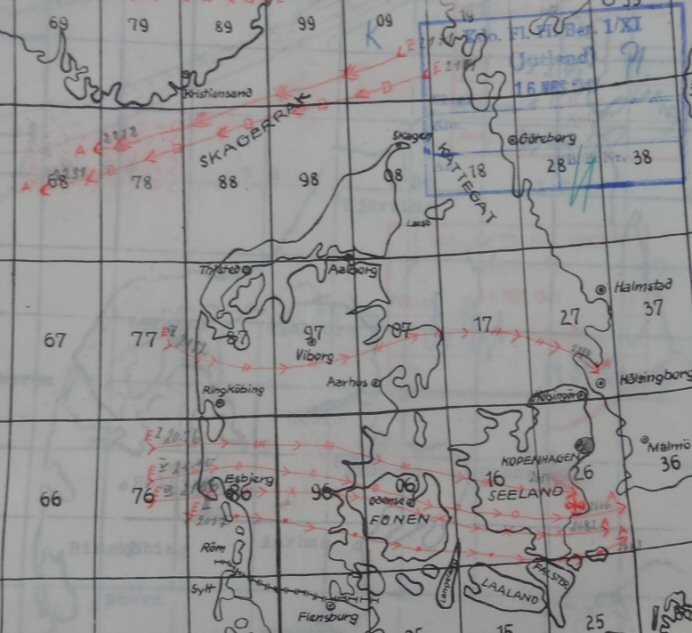 FLUKO HAL DT620
Updated: 02 FEB 2020


Foto fra Carsten Petersen af
tysk kort fra FluKo Kolding med
overflyvninger natten 14 - 15 MAR 1943.
Se også TOPPEN AF KORTET

HAL DT620 var på vej fra RAF Tempsford
til Wrona - Dropzone i Polen.


Se

Google Map p143 HAL DT620

.


Det blev fundet af Radarstation Seehund
midt på Sjælland.
Krydset syd for København
markerer nedskydningen.

HAL BB378 styrtede ned midt på Sjælland
11 DEC 1943. Også en Halifax II med marchhastighed omkring 241 km/t.
(Derek Carter) Også 4 timer fra Tempsford.

Photo from Carsten Petersen of a
German map from FluKo Kolding with
flights over Denmark
in the night 14 - 15 MAR 1943.
See also the TOP OF THE MAP.

HAL DT620 was on its way from
RAF Tempsford to Wrona - Dropzone
in Poland. See Google Map p143 HAL DT620.
It was spotted by Radar Station Seehund
at the centre of Zealand.
The cross south of Copenhagen
marks the shotdown.

HAL BB378 crashed at the middle of Zealand
11 DEC 1943. Also a Halifax II with a cruising speed of about 150 mph. (Derek Carter)
It also took 4 hours from Tempsford.