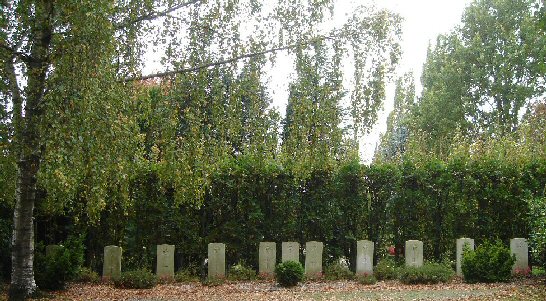 Aarhus, 8 flyvere.
Aarhus Vestre Kirkegård, Viborgvej 47A, 8210 Aarhus V
i Århus Kommune. Se også Aarhus 31 OKT 1944 - Gestapo HQ bombet.
Indkørsel til Vestre Kirkegård på Viborgvej lige vest for lyskrydset
Vestre Ringgade - Viborgvej. Fra den runde plads lige inde på kirkegården går/kører man til venstre til Litra G nr. 0308 - 0313B her.
11 gravsten, men 2 flyvere og en soldat fra Royal Dragoons, som døde efter befrielsen 5. maj 1945, er ikke angivet nærmere her.
Se Begravelse 8. juni 1945 af G.A. Mombrun og R.J. Allen.

Aarhus, 8 airmen.
Aarhus West Cemetery, Viborgvej 47A, DK-8210 Aarhus V, in the Municipality of Aarhus. See Aarhus 31 OCT 1944 - Gestapo HQ bombed.
Way in on Viborgvej just west of the light crossing Vestre Ringgade - Viborgvej. From the round space right after the entrance you walk/drive to the left to Litra G no. 0308 - 0313B here.
11 headstones, but 2 aircraftmen and 1 trooper from The Royal Dragoons, who died after the liberation on May 5, 1945, are not recorded here.
See Burial 8 June 1945 of G.A. Mombrun and R.J. Allen.