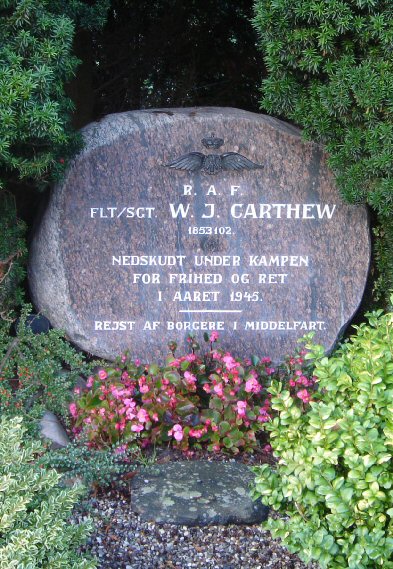 William John Carthew Updated: 15 JAN 2022
Airman: a058001.htm Surname: Carthew Init: W J Rank: F/Sgt Service: RAF Sqdn: 138
P_link: p392r.htm Plane: STI LK279 Operation: Drop in DK Crash_site: Lillebælt.
Crash_d: d100245 Buried_d: b110745 C_link: c058.htm At_Next: Middelfart

Den 10. februar 1945 styrtede STI LK279 ned i Lillebælt ved Flækøjet omkring her.
Det nåede ikke at kaste forsyninger ved modtagepladsen "Niels".
"Natten til den 10. februar 1945 stod man på 7 fynske modtagepladser klar til at signalere til
allierede våbenfly. Ved 22-tiden satte det imidlertid ind med dårligt vejr, hvorfor ingen af flyene nåede frem til de ventende fynboer." (FAF) De andre 6 fly returnerede, men STI LK279 kom ikke tilbage.
Se Google Map p392r Stirling LK279 og den lange version med detaljer.
Se også Poul Erik Pedersen om Short Stirling NF-L LK279 og meget andet.

Den 9. juni 1945 blev liget af W. J. Carthew fundet ved Aalehoved og han blev begravet den
11. juni 1945 i Middelfart.

Flight Sergeant (Air Gunner) William John Carthew, 22 år, var søn af William Herbert Carthew
og Elizabeth Carthew, Woodford Bridge, Essex, United Kingdom. (Kilde: CWGC)
Den 10. februar 2015 blev 70-årsdagen for styrtet markeret i Fredericia ved en mindegudstjeneste
i Christianskirken med deltagelse af Anne Dellow, 88 år, søster til William J. Carthew, grev Ingolf
og Sussie af Rosenborg, den australske ambassadør, den britiske militærattache, garnisonskommandanten i Fredericia, borgmesteren i Fredericia samt mange andre danskere
med militær eller civil baggrund.
Se Lokalavisen Fredericia 17. februar 2015: Til ære for de, der mistede livet og
70 år efter tragedien skete, fotos: Rosa Engelbrecht, tekst: Jørgen Flindt.
1 flyver fra STI LK279 blev begravet i Middelfart og 1 i Fredericia. 5 flyvere har ingen kendt grav
- men 1 af dem er måske den ukendte flyver i Fredericia!
69 flyvere mindes på Mindetavlen i Rebild og i London, se 69 flyvere - St. Clement Danes.
7 flyvere.

On 10 February 1945 STI LK279 crashed into the Lillebælt at Flækøjet about here.
It failed to drop supplies in the drop zone "Niels".

"On the night before 10 February, 1945, they were ready at 7 drop zones on Funen to signal to
allied planes with weapons. However, at about 10 p.m. bad weather started, so none of the planes
reached the waiting residents of Funen." (FAF) The other 6 planes returned, but STI LK279 failed
to return. See Google Map p392r Stirling LK279 and the long version with details.
On 9 June 1945 the body of W. J. Carthew was found at Aalehoved. He was buried on 11 June 1945. W.J. Carthew, Shot down in the fight for freedom and
justice in the year 1945. Erected by citizens of Middelfart.
Flight Sergeant (Air Gunner) William John Carthew, 22, was the son of William Herbert Carthew,
and of Elizabeth Carthew, of Woodford Bridge, Essex, United Kingdom. (Source: CWGC)
He is remembered on The Walls of Names at the International Bomber Command Centre, P2, P142.

On 10 February 2015 the 70th anniversary of the air crash was commemorated at a memorial service in Christianskirken. Among the attendants were
Anne Dellow, 88, the sister of William J. Carthew, Count Ingolf and Sussie of Rosenborg, the Australian Ambassador to Denmark, the British Military Attache,
the Commandant of the Garrison of Fredericia, the Mayor of Fredericia, and many other Danes with a military or civilian background.

1 airman from STI LK279 was buried in Middelfart and 1 in Fredericia. 5 airmen have no known grave - one of them might be the Unknown airman in Fredericia!
See 69 perished airmen on the Memorial Plaque in Rebild and in London, 69 airmen - St. Clement Danes.
No. 138 Squadron - Wikipedia * Roll of Honour, Tempsford * Tempsford Special Duties Squadrons * A History of Tempsford Airfield
Stirling IV LK279 NF-L took off from RAF Tempsford on 09 FEB 1945. (Source: Aircrew Remembered has this.) Short Stirling. 7 airmen.