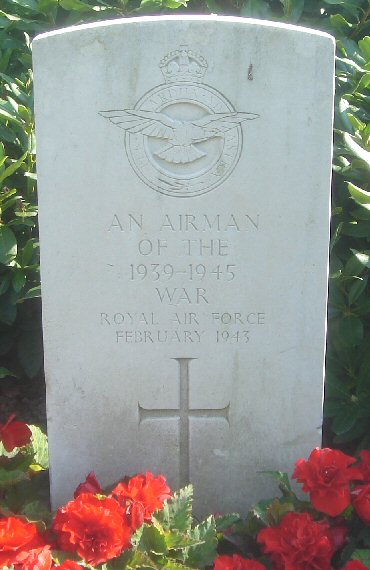 An unknown British airman Photo from 05 JUL 2014 Updated: 08 JUL 2014

Airman: a018003.htm Surname: unknown Init: xx Rank: xx Service: RAF Sqdn: xx
P_link: p444.htm Plane: UNKNOWN Operation: Unknown Crash_site: UNKNOWN
Crash_d: d111111 Buried_d: b111111 C_link: c018.htm At_Next: Fredericia

Den 10. februar 1945 styrtede STI LK279 ned i Lillebælt ved Flækøjet omkring her. Det nåede ikke
at kaste forsyninger ved modtagepladsen "Niels".
Se Google Map p392r Stirling LK279 og den lange version med detaljer. Vraget blev bjerget i 1951:

"Af et besætningsmedlem fandtes kun nogle ben- og fodknogler i en støvle. Den 10. oktober 1951 kunne
Fredericia Dagblad oplyse, at ligresterne blev ført til ligkapellet i Fredericia:

"Det må antages, at den omkomne flyver har siddet fastklemt i maskinen. Det ser ud til at have været en meget stor og kraftig mand, og muligvis vil det derfor lykkes at identificere ham".

To dage senere kunne samme avis rapportere, at den britiske luftattaché i Danmark, Wing Commander
N.A.N. Bray, havde været på besøg for at undersøge vragresterne. Det var Brays opfattelse, at
ligresterne stammede fra piloten, og at man ved den igangværende undersøgelse sikkert ville finde frem
til hans navn.
Avisen oplyste, at piloten ville blive begravet "i Skærbæk (sic!) eller Fredericia".

<![if !vml]>
<![endif]>
En identifikation af ligresterne som tilhørende piloten, F/S Tucker, synes dog ikke at være sket; og hvad der er mere bemærkelsesværdigt: Der foreligger, hverken i aviserne, i kirkebøgerne eller i kirkegårdens arkivalier, nogen oplysninger om begravelsen. Så selv om det må antages, at stenen på Christians Kirkegård for den ukendte britiske flyver er et minde om den i 1951 indbjærgede, kan dette ikke siges
med sikkerhed; til forvirringen bidrager også, at der på gravstenen står: "An Airman of the 1939-1945 War. Royal Air Force February 1943". (Begravede allierede flyvere på Christians Kirkegård, artikel fra Fredericiabogen 2004 af Jørgen Peder Clausager og Flemming Hansen.) Arne Mosgaard om flyvergrave
i Fredericia.

On 10 February 1945 STI LK279 crashed into the Lillebælt at Flækøjet about here.
It failed to drop supplies in the drop zone "Niels".
See Google Map p392r Stirling LK279 and the long version. The wreckage was salvaged in 1951:
"Only some bones from a leg and a foot were found in a boot. On 10 October 1951 the newspaper Fredericia Dagblad reported that the human remains had been
taken to the chapel of rest in Fredericia: "It is believed that the perished airman has been wedged in the plane. He appears to have been a very big and strongly built
man, and possibly that will lead to an identification."
Two days later the same newspaper reported that the British Air Force Attache in Denmark, Wing Commander N.A.N. Bray, had examined the remains. It was Bray's
view that the human remains were from the pilot and that the current investigation would bring up his name. The newspaper reported that the pilot would be buried "in Skærbæk or in Fredericia".

An identification of the parts of the body as belonging to pilot F/S Tucker does not appear to have been carried out, and even more remarkable: In the newspaper, the church register or other church records there is not any piece of information about the burial. Even if it may be believed that the headstone in Christians Kirkegård to
the Unknown British airman must be a memorial to the airman retrieved in 1951 it cannot be said with certainty. It also adds to the confusion that the text on the headstone reads: "An Airman of the 1939-1945 War. Royal Air Force February 1943".
(Source: Begravede allierede flyvere på Christians Kirkegård, an article from Fredericiabogen 2004 by Jørgen Peder Clausager and Flemming Hansen)