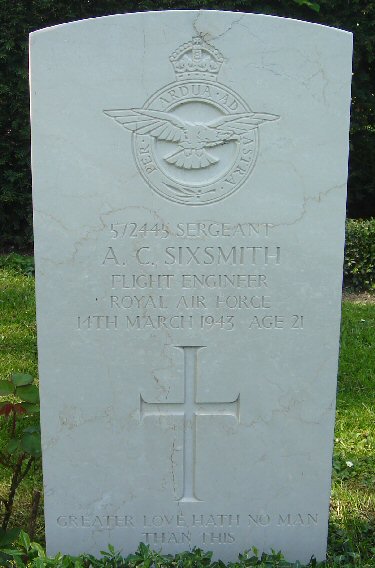 Arthur Cyril Sixsmith Updated: 12 MAY 2021
Airman: a048004.htm Surname: Sixsmith Init: A C Rank: Sgt Service: RAF Sqdn: 138
P_link: p143.htm Plane: HAL DT620 Operation: SOE to PL Crash_site: Off Store Heddinge
Crash_d: d140343 Buried_d: b190443 C_link: c048.htm At_Next: K - Bispebjerg

"Under en SOE-flyvning til Polen med våbenforsyninger blev Halifax DT620 skudt ned over Stevns. Flyet nedstyrtede den 14. marts 1943 kl. 21.45 på 7-8 m vand ved Harvig. Alle ombordværende blev dræbt." (FAF) Se Google Map p143 HAL DT620. Zoom. SDFE-kort HAL DT620. FLUKO - tysk kort.
Overblik over besætningen. Flyvehistorisk Tidsskrift skriver.
Se 5 sider om Halifax II DT620 skudt ned over Østersøen ud for Stevns 14/3-1943.
Sergeant (Flight Engineer) Arthur Cyril Sixsmith, 21 år, var søn af James og Amy Sixsmith,
Tue Brook, Liverpool, United Kingdom. (Kilde: CWGC)
Fra HAL DT620 blev 5 flyvere begravet på Bispebjerg og 1 i Sverige, mens 1 har ingen kendt grav.
7 flyvere.

"Halifax DT620 was shot down over Stevns on a SOE-operation to Poland with supplies of
weapons. The plane ditched on 14 March 1943 at 21:45 in the sea at Harvig at a depth of 7-8 m.
All on board were killed." (FAF) See Google Map p143 HAL DT620. Zoom. SDFE-map HAL DT620. Overview of the crew. (Danish) Aviation Historical Review writes.
See 5 pages about Halifax II DT620 shot down over the Baltic Sea off Stevns on 14 March 1943.
Sergeant (Flight Engineer) Arthur Cyril Sixsmith, 21, was the son of James and Amy Sixsmith, of
Tue Brook, Liverpool, the United Kingdom. (Source: CWGC)
Greater love hath no man like this
He is remembered on The Walls of Names at the International Bomber Command Centre, P 2, P242.

5 airmen from HAL DT620 were buried in Bispebjerg and 1 in Sweden, while 1 has no known grave.
See p143MACR about this crew and FLUKO - German map. See Halifax Print * Halifax - Bless 'Em All
Lancaster+Halifax * Tempsford Special Duties Squadrons * Special Operations Executive
35 Airmen shot down over Denmark on SOE Missions to Poland * No. 138 Squadron * RAF Tempsford
Roll of Honour, Tempsford 7 airmen.