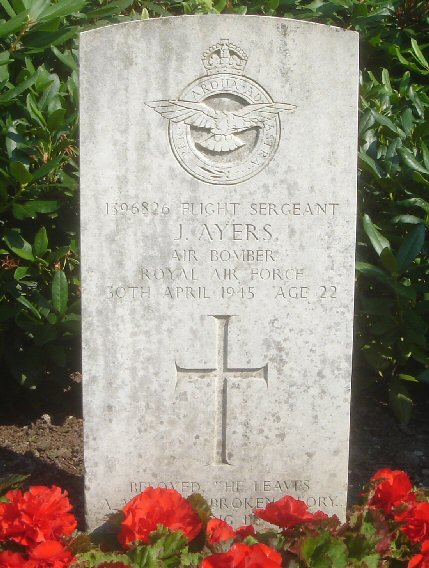 John Ayers Photo from 05 JUL 2014 Updated: 10 SEP 2018
Airman: a018002.htm Surname: Ayers Init: J Rank: F/Sgt Service: RAF Sqdn: 295
P_link: p429r.htm Plane: STI LK567 Operation: Drop in DK Crash_site: Plougslund Mose
Crash_d: d270445 Buried_d: b310545 C_link: c018.htm At_Next: Fredericia

STI LK567 nødlandede omkring her den 27. april 1945 nær det monument, der blev rejst
i 1995. Mere om begivenhederne ved STI LK567. Her mere om denne flyver:
Fredag den 4. maj 1945 kl. 15, få timer før tyskerne kapitulerede i Danmark, blev J. Ayers begravet sammen med 24 tyske soldater i en fællesgrav. Torsdag den 31. maj fik han en ny
grav ved en begravelse forestået af pastor E. Christensen. Den blev bl.a. overværet af 2 RAF officerer og en trop engelske soldater, en dansk oberstløjtnant med adjudant og en æresvagt
af 6 danske frihedskæmpere. (Kilde: FAF)
Flight Sergeant (Air Bomber) John Ayers, 22 år, var søn af John Edward og Lily Ayers,
Sidcup, Kent, United Kingdom. (Kilde: CWGC) Arne Mosgaard om flyvergrave i Fredericia.

Se Skudt ned, overlevet og gift i 70 år (pdf 7.4 MB) af N.M. Schaiffel-Nielsen 10 DEC 2016.
69 omkomne flyvere mindes på Mindetavlen i Rebild og i London,
se 69 flyvere - St. Clement Danes. 6 flyvere.

STI LK567 made a forced landing about here on 27 April 1945 near the monument which was erected in 1995. More about the events at STI LK567. More about this airman here:
On Friday 4 May 1945 at 15:00, only a few hours before the Germans surrendered in
Denmark, J. Ayers was buried with 24 German soldiers in a common grave. On Thursday
31 May he had a new grave at a funeral carried out by Vicar E. Christensen. Among others
it was attended by 2 officers of the RAF and a squad of British soldiers, a Danish Lieutenant
Colonel with adjutant and 6 Danish freedom fighters as a guard of honour. (Source: FAF)
Flight Sergeant (Air Bomber) John Ayers, 22, was the son of John Edward and Lily Ayers, of Sidcup, Kent, United Kingdom. (Source: CWGC)
Beloved. "He leaves a white unbroken glory.. A shining peace under the night"
See 69 perished airmen on the Memorial Plaque in Rebild and in London, 69 airmen - St. Clement Danes.
See No. 295 Squadron RAF. See also 295 Squadron in Unit Histories. This Stirling took off from RAF Rivenhall. 6 airmen.