Stirling IV LK567 - Plougslund Mose - Monument Updated: 25 MAY 2008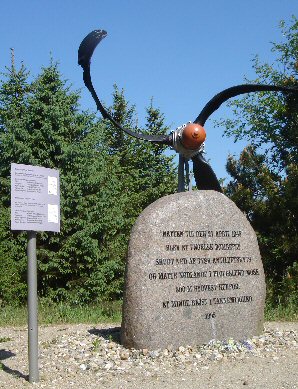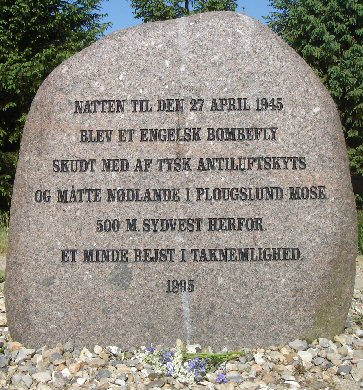 Denne mindesten for besætningen
på STI LK567 står her ved en rasteplads
200 m nord for Koldingvej 4, 7190 Billund.

Den blev afsløret 50 år efter nødlandingen,
rejst på initiativ af Lokalhistorisk Forening
i Grene Sogn.


On the night before 27 April, 1945 an English bomber was shot down by German flak and had to make a crash landing in Plougslund Moor
500 m south west of this spot. A memorial erected in gratitude. 1995.
This memorial stone to the crew of STI LK567 is here at a lay-by 200 m north of Koldingvej 4, DK-7190 Billund.
It was unveiled 50 years after the crash landing, erected on the initiative of the Association for Local History in the Parish of Grene.