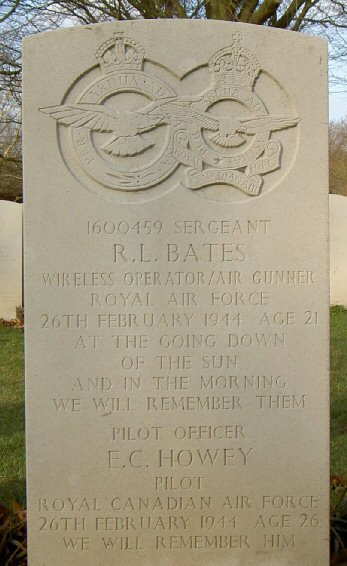 Edward Clayton Howey Photo: Knud Riis Updated: 08 MAR 2021

Airman: a014189.htm Surname: Howey Init: E C Rank: P/O Service: RCAF Sqdn: 431
P_link: p275.htm Plane: HAL LK705 Operation: Minelaying Crash_site: Klelund Plantage
Crash_d: d260244 Buried_d: b030344 C_link: c014.htm At_Next: Esbjerg, Coll.g.A.8.24-25 = A.8.26

Den 26. februar 1944 styrtede HAL LK705 under en minelægningsoperation ned her i Klelund Plantage, hvor der i 1947 blev rejst et monument. Se Forget-me-not ved Kiel i Minelægningsområder.
Pilot Officer (Pilot) Edward Clayton Howey, 26 år, var søn af James og Mary Howey, Chatsworth,
Ontario, Canada; gift med Jean Howey. (Kilde: CWGC)
Medens 594 bombefly fløj til Augsburg, foretog 131 bombefly et togt til Kielerbugten og lagde miner.
Tre Halifaxes og en Stirling gik tabt under mineringen. LK705 blev ramt af en tysk natjager og styrtede
brændende ned i Klelund plantage. Hele besætningen omkom og blev i begyndelsen af marts begravet
i Gravlunden i Fourfeldt ved Esbjerg. Den 5. maj 1947 afsløredes en mindesten for de dræbte flyvere
tæt ved skovfogedboligen i Klelund plantage. (FT 90-102-19) Se p275MACR.
Se Halifax Print og folk bag en Halifax klar til en mission. 7 flyvere.

On 26 February 1944 during a minelaying operation HAL LK705 crashed here in the Klelund Plantation where a monument was erected in 1947. See Forget-me-not at Kiel on the map Minelaying areas.
Pilot Officer (Pilot) Edward Clayton Howey, 26, was the son of James and Mary Howey, of Chatsworth, Ontario, Canada, and the husband of Jean Howey. (Source: CWGC) We will remember him
His name is engraved on the Memorial Wall at the BC Museum of Canada.
The Canadian Virtual War Memorial has this.
He is remembered on The Walls of Names at the International Bomber Command Centre, Phase 2, P 185.
While 594 bombers targeted Augsburg, 131 bombers carried out a minelaying operation in the Kiel Bay.
3 Halifaxes and 1 Stirling were lost during the operation. LK705 was hit by a German night fighter and
crashed, burning, into the Klelund Plantation. All of the crew perished. In the beginning of March the
airmen were buried at Esbjerg. On 5 March 1947 a memorial stone to the killed airmen was unveiled
in the Klelund Plantation. (Source: FT 90-102-19)
See No. 6 Group and the Canadian Squadrons * No. 431 (Iroquois) Squadron
431 Squadron Royal Canadian Air Force Association * Snowbirds in Wikipedia
Halifax-Wikipedia*Halifax Print*Halifax-BC Museum.Canada * Halifax-RAF Museum
Halifax-The Yorkshire Air Museum * Halifax Mk III at YAM 2019*LAN-HAL.
Halifax V LK705 SE-X took off from RAF Croft at 20.27 hrs on 25 FEB 1944. See p275MACR.
(Source: Aircrew Remembered has this + Archive Report) Halifax - Bless 'Em All. 7 airmen.